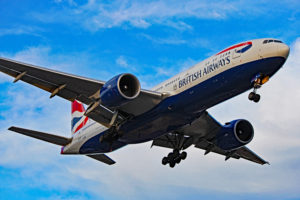 In a lot of airlines, G-VIIE would be the largest aircraft in the fleet. With British Airways, the Boeing 777-200ER can probably be considered a mid-size airliner. We photographed this 20 year old B772 while plane spotting at Toronto Pearson International Airport (YYZ) on August 13, 2017.
For full-size, high resolution versions of any of the photos in the image gallery, simply click on the individual pictures. See below for more detailed information on G-VIIE, the Boeing 777-200ER model in general and the airline.
G-VIIE British Airways Boeing 777-200ER Image Gallery
G-VIIE
G-VIIE took its first flight on February 14, 1997 and was delivered to British Airways on February 27, 1997. The aircraft is one of 46 Boeing 777-200ER aircraft in the fleet. This airliner is configured for a maximum total of 275 passengers with 48 seats in Club World (business class), 24 more in World Traveller Plus (premium economy) and 203 in World Traveller (economy class).
Boeing 777-200ER
The first Boeing 777-200ER was introduced in 1997 with, ironically, British Airways. The ER stands for extended range and with a flight range of 13,080 kilometres, it can fly 3,400 KM more than the base 777-200 model. However, the LR, or longer range, variant flies 2,800 kilometres further than the -200ER.
The B772 is 64 metres or 209 feet in length with a wingspan of 61 metres or 200 feet. At the tail, the aircraft stands 19 metres or 61 feet in height.
British Airways
British Airways was created in 1974 with the merger of four airlines: British Overseas Airways, British European Airways, Cambrian Airways and Northeast Airlines. The airline is headquartered at Waterside, Harmondsworth, England.
A founding member of the OneWorld Alliance, British Airways started the group along with American Airlines, Cathay Pacific, Qantas and the defunct Canadian Airlines. The airline merged with Spain's Iberia in 2011.
The airline flies to 183 destinations around the world with a fleet of nearly 275 aircraft. Heading the fleet are 12 Airbus A380-800 double decker airplanes and a shrinking collection of Boeing 747-400 aircraft. The B744's are being phased out. In quantity, the Airbus A320-200 is the most numerous in the fleet.
Resources
More Like This: