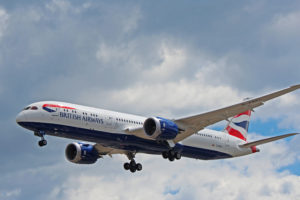 Typically, its the Boeing 747-400 we see from British Airways landing at Toronto Pearson International Airport (YYZ). It was nice to photograph G-ZBKL, a Boeing 787-9 Dreamliner, while plane spotting on July 29, 2017. It's interesting that British Airways chooses not to have the Dreamliner logo near the back. Instead, you'll find a 'Royal Mail' logo, right next to the registration number.
For full-size, high resolution versions of any of the photos in the image gallery, simply click on the individual pictures. See below for more detailed information on G-ZBKL, the Boeing 787-9 model in general and the airline.
G-ZBKL British Airways Boeing 787-9 Dreamliner Image Gallery
G-ZBKL
G-ZBKL took its first flight on June 27, 2016 and was delivered to British Airways on July 21, 2016. This is currently one of 16 B789 aircraft in the fleet. The airliner is configured for a maximum total of just 216 passengers (compare that to Air Canada's C-FNOE – same model of aircraft but configured for 298 passengers). There are eight first class seats, along with 42 Club World (business class). For World Traveller Plus (premium economy) there are 39 seats and there's 127 World Traveller (economy) seats.
Boeing 787-9
The Boeing 787-9 Dreamliner took its first flight on September 17, 2013 and was first delivered to Air New Zealand on July 8, 2014. The aircraft is 63 metres or 206 feet in length with a wingspan of 60 metres or 197 feet. At the tail, the aircraft stands 17 metres or 56 feet in height. The flight range is 14,140 kilometres.
The B789 is 20 feet longer than the initial variant, the Boeing 787-8. The flight range is also longer by nearly 500 KM. The first B788 was introduced in October, 2011 with All Nippon Airways.
British Airways
British Airways was created in 1974 with the merger of four airlines: British Overseas Airways, British European Airways, Cambrian Airways and Northeast Airlines. The airline is headquartered in Waterside, Harmondsworth, England. In 2011, British Airways merged with Iberia. They are a founding member of the OneWorld Alliance, along with American Airlines, Cathay Pacific, Qantas and Canadian Airlines.
The BA fleet consists of 273 aircraft flying to 183 destinations around the world. They currently have 12 Airbus A380-800 and 41 Boeing 747-400 aircraft in service. The most numerous in the fleet is the Airbus A320-200 with 68.
Resources
More Like This: