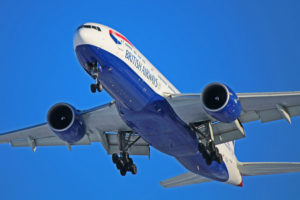 G-ZZZB is a bit of a rare bird. This British Airways airliner is a Boeing 777-200. Not -200ER or -200LR. Of the initial variant of 777-200, just 88 were ever delivered and just 62 remained in service as of 2017. British Airways has just three in their fleet. We photographed G-ZZZB on January 1, 2018 while plane spotting at Toronto Pearson International Airport (YYZ).
For full-sized, high resolution versions of any of the photos in the image gallery, simply click on the individual pictures. See below for more detailed information on G-ZZZB, the Boeing 777-200 model in general and the airline.
G-ZZZB British Airways Boeing 777-200 Image Gallery
G-ZZZB
G-ZZZB took its first flight on April 11, 1995 but did not arrive in the British Airways fleet until March 28, 1997. As mentioned, the Boeing 777-236 is one of just three in the fleet and one of 62 still in the air around the world. This airliner is configured for a maximum total of 216 passengers with 17 first class seats, 48 more in business class, 24 in premium economy and 127 seats in economy class.
Boeing 777-200
The Boeing 777-200 took its maiden flight on June 12, 1994 and the first was delivered to United Airlines on May 15, 1995. The initial 777-200 variant, it was followed by the 777-200ER and 777-200LR. In all, 88 were delivered with the last coming off the line in 2007.
The aircraft is 64 metres or 209 feet in length with a wingspan of 61 metres or 200 feet. At the tail, the aircraft stands 19 metres or 61 feet in height. These dimensions are shared with the ER and LR variants. The flight range is 9,700 kilometres. This is around 3,400 KM less than the more popular Boeing 777-200ER.
British Airways
British Airways was created in 1974 with the merger of British Overseas Airways, British European Airways, Cambrian Airways and Northeast Airways. The airline is headquartered at Waterside, Harmondsworth, England. BA merged with Iberia in 2011 and is a founding member of the Oneworld Alliance, along with American Airlines, Cathay Pacific, Qantas and the now defunct Canadian Airlines.
The airline has a fleet of nearly 175 aircraft flying to over 180 destinations worldwide. The headliners of the fleet are the 12 Airbus A380-800 models and the 36 Boeing 747-400 jumbo jets. The most numerous in the fleet is the Airbus A320-200.
Resources
More Like This: