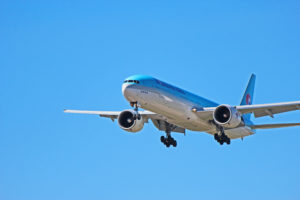 These images of HL-8210 were taken on May 20, 2017 at Toronto Pearson International Airport (YYZ). The Korean Air Boeing 777-300ER is closing in on its seventh birthday and has been with Korean Air over its entire lifetime.
For full-size, high resolution versions of any of the photos in the image gallery, simply click on the individual pictures. See below for more detailed information on HL-8210, the Boeing 777-300ER model in general and the airline.
HL-8210 Korean Air Boeing 777-300ER Image Gallery
HL-8210
HL-8210 made its first flight on June 30, 2010 and was delivered to Korean Air on July 16, 2010. This is one of 20 Boeing 777-300ER aircraft in the Korean Air fleet at the moment with ten more on order. The aircraft is configured for a maximum total of 291 passengers with eight seats in first class, 56 more in prestige class and 227 in economy class.
On April 14, 2013, there was a bit of a confusing issue on board HL-8210. The Boeing 777-3B5ER was flying from Seoul, South Korea to Los Angeles, California. Cruising at 33,000 feet, 90 miles northeast of Toyko, Japan, the crew reported smoke in the cockpit and diverted to Tokyo's Narita Airport for a safe landing.
No fire or heat was found by emergency services. The location of the smoke was an issue with the flight crew reporting it in the cockpit but the cabin crew reporting it in a galley above a refrigerator.

Boeing 777-300ER
The original Boeing 777 model was introduced to the world in 1995 with United Airlines. In 2004, the first -300ER model debuted with Air France. The ER is for 'extended range' and the Boeing 777-300ER can travel 13,650 kilometres, 2,500 more than the base -300 model.
The aircraft is 74 metres or 242 feet in length with a wingspan of 65 metres or 213 feet. The height of the airplane at the tail is 19 metres or 61 feet.

Korean Air
Founded in 1946 as Korean National Airlines, Korean Air is headquartered in Gonghang-Dong, Gangseo-Gu, Seoul, South Korea. The airline flies to 127 destinations worldwide with a fleet of 173 aircraft.
Korean Air is a founding member of the SkyTeam Alliance. SkyTeam was established in 2000 and the other founding members include AeroMexico, Air France and Delta Air Lines. There are now 20 full members and the alliance is headquartered at Amsterdam Airport Schiphol in Haarlemmermeer, Netherlands.
The highest number of one aircraft in the Korean Air fleet is 21 Airbus A330-300 with four more on order. However, the Boeing 777-300ER will top that with 20 now in the fleet and ten more on order. The airline also has ten Airbus A380-800 aircraft in the fleet with no plans to increase that number.

Resources
More Like This: