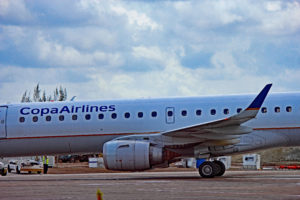 This Embraer ERJ-190AR was spotted at Abel Santamaria Airport (SNU) in Santa Clara, Cuba on April 18, 2017. The airplane was doing an out and back journey from Panama City, Panama. HP-1540CMP is one of 21 of this particular model of aircraft in the Copa Airlines fleet.
For full sized, high resolution versions of the images in the gallery below, simply click on the individual pictures. See below for more detailed information on this specific aircraft, the Embraer ERJ-190AR model in general, the airline and the airport.
---
---
HP-1540CMP Copa Airlines Embraer ERJ-190AR Image Gallery
HP-1540CMP
HP-1540CMP was delivered to Copa Airlines on February 1, 2006 and has remained in their fleet since. This is one of 21 Embraer ERJ-190AR aircraft belonging to Copa (including Copa Colombia). The airplane is configured for a total of 94 passengers with ten seats in business class and 84 more in economy class.

Embraer ERJ-190AR
The first Embraer ERJ-190AR made its first flight in 2004 and was launched with JetBlue in 2005. JetBlue remains the largest operator of this model with Air Canada and Tianjin Airlines not too far behind.
The ERJ-190AR is 36 metres or 119 feet in length with a wingspan of 29 metres or 94 feet. At the tail, the airplane stands eleven metres or 35 feet tall. The maximum flight range for this particular model is 4,537 kilometres.

Copa Airlines
Copa Airlines was founded in 1944 and commenced operations in 1947. They have been a member of the Star Alliance since June, 2012 and are headquartered in Panama City, Panama. The main hub for Copa Airlines is Tocumen International Airport (PTY) in Panama City.
The airline has a fleet of 100 aircraft consisting of Boeing 737-700, Boeing 737-800 and Embraer ERJ-190AR. There are 61 Boeing 737 Max on order with the variants of either 737-8 or 737-9 to be determined. Copa flies to over 70 destinations.

Abel Santamaria Airport
Abel Santamaria Airport is located in Santa Clara, Cuba in the province of Villa Clara. A tourism hub servicing both the south and north coast of the island, SNU is also an inactive air base for the Cuban Revolutionary Armed Forces. There are bunkers that line the runway and MiG fighter jets can still be seen in some.
On August 31, 2016, the first regularly scheduled flight from the United States to Cuba in 54 years took place. The airline was JetBlue and the destination was this airport.
Abel Santamaria was a revolutionary with close ties to Fidel Castro. Santamaria died in 1953 in Santiago de Cuba. He was murdered in prison by police after a failed attack to overthrow the dictator Batista. He would not give up the location of Fidel and the other leaders.
Santa Clara is a city of around 240,000 inhabitants that was founded back on January 1, 1690 after early residents moved inland to avoid pirates. Santa Clara is the capital of Villa Clara province and is the fifth largest city in Cuba by population.
This is the site of the battle of the Cuban Revolution in 1958 with two groups led by Ernesto Che Guevara and Camilo Cienfuegos taking over the city. A mausoleum in the city houses the remains of Che Guevara.

Resources
More Like This: