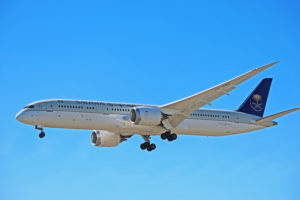 The first Saturday morning after runway construction completion at Toronto Pearson International Airport (YYZ) didn't disappoint. HZ-ARE is the latest addition to the It's About Airplanes database. The Saudia (Saudi Arabian Airlines) Boeing 787-9 Dreamliner is pictured in the image gallery below on approach from the west. Just a baby, at the time of the photos, the airplane was not even two months old.
For full-size, high resolution versions of any of the photos in the image gallery, simply click on the individual pictures. See below for more detailed information on HZ-ARE, the Boeing 787-9 Dreamliner in general and the airline.
HZ-ARE Saudia Boeing 787-9 Dreamliner Image Gallery
HZ-ARE
Just a baby, HZ-ARE made its first flight on March 12, 2017 and was delivered to Saudia on March 25, 2017. This is one of six Boeing 787-9 Dreamliners currently in service for Saudi Arabia Airlines with five more on order. The aircraft is configured for a total maximum of 298 passengers with 24 seats in business class and 274 more in economu class.

Boeing 787-9 Dreamliner
Also known as the B789, the Boeing 787-9 Dreamliner made its first flight on September 17, 2013 and entered service with Air New Zealand on July 8, 2014. The first Boeing 787-8 was introduced two years earlier, in October of 2011, with All Nippon Airways.
The 787-9 is 63 metres or 206 feet in length with a wingspan of 60 metres or 197 feet. At the tail, the aircraft stands 17 metres or 56 feet in height. The 787-9 is six metres or 20 feet longer than the 787-8 model with an equal wingspan.
Flight range for the 787-9 is 14,140 kilometres. This is about 500 kilometres more than the 787-8. The 787-10 will be shorter range at 11,908 kilometres.

Saudia
Saudi Arabian Airlines was founded in 1945 and is headquartered in Jeddah, Saudi Arabia. The airline is owned by the government of Saudi Arabia. The Saudia fleet has 175 aircraft flying to 127 destinations. The most of any aircraft in the fleet is the Airbus A320-200 with 42.
Saudia is a member of the SkyTeam Alliance and has been since May 29, 2012. SkyTeam was established in June, 2000 and now has 20 full members. The alliance is headquartered at Amsterdam Airport Schiphol in Haarlemmermeer, Netherlands. Founding members include AeroMexico, Air France, Delta Air Lines and Korean Air.

Resources
More Like This: