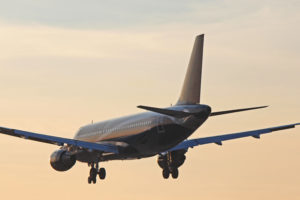 Typically, the Avion Express Airbus A320-200 aircraft, leased out to Cubana, are dressed in white. LY-COM was captured with a snazzy nearly all black livery. We photographed the airliner while plane spotting at Toronto Pearson International Airport (YYZ) on December 3, 2017.
For full-size, high resolution versions of any of the photos in the image gallery, simply click on the individual pictures. See below for more detailed information on LY-COM, the Airbus A320-200 model in general and the airline(s).
LY-COM Cubana / Avion Express Airbus A320-200 Image Gallery
LY-COM
LY-COM took its first flight on February 16, 1995 and was first delivered to Onur Air as TC-ONE on April 10, 1995. Onur Air was founded in 1992 and is headquartered in Istanbul, Turkey. The airline currently has a fleet of 24 aircraft flying to 38 destinations.
On November 28, 1998, the Airbus A320-212 moved west to fly for Air Jamaica as 6Y-JMA. Air Jamaica was founded in October, 1968 and ceased operations in 2015. From 2011 forward, the airline was owned by Caribbean Airlines. At the time of its demise, the airline has a fleet of four aircraft flying to 19 destinations.
However, this particular aircraft didn't make it to the merge. On February 1, 2007, the A320 was delivered to Vladivostok Avia as VP-BRB. That airline was founded in 1932 and ceased operations on December 14, 2013 after merging with SAT Airlines. At that time, they were headquartered in Vladivostok, Russia with a fleet of 23 airliners flying to 42 destinations.
Once again, the Airbus A320 didn't make it to the merge. Since 2012, LY-COM has been with Avion Express. Since, it has been leased out to Cosmo Airlines, SmartWings and Air Algerie. Since October 12, 2013, it has flown for Cubana.
Airbus A320-200
The first Airbus A320-200 was introduced in 1988 with Air France. Since, nearly 4,400 have been delivered. The initial variant of the Airbus A320 Family, the A320 is 23 feet shorter than the A321 while 12 feet longer than the A319 and 20 feet longer than the A318.
The aircraft is 38 metres or 123 feet in length with a wingspan of 36 metres or 118 feet. At the tail, the airliner is 12 metres or 39 feet in height. The flight range is 6,100 kilometres.
Cubana
Cubana de Aviacion first flew in 1930 and is the national airline of Cuba. Headquartered in Havana, Cuba, the airline was originally a subsidiary of Pan American World Airways but has been wholly owned by the government since May, 1959.
Currently, the fleet consists of 20 aircraft. 15 airliners are owned by the airline and are products of Russia. The others are Airbus products leased from Avion Express. Cubana fles to over 20 destinations.
Avion Express
Avion Express was established in 2005 as Nordic Solutions Air Services and took on its current name in 2008. Headquartered in Vilnius, Lithuania, Avion Express has a fleet of 15 aircraft, all leased to other airlines.
The fleet consists of three Airbus A321-200, eleven Airbus A320-200 and one Airbus A319-100 aircraft. These airliners are currently leased out to Cubana de Aviacion, Thomas Cook Airlines and Condor.
Resources
More Like This: