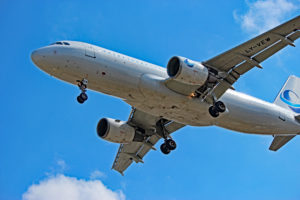 LY-VEW is an Airbus A320-214 flying for Cubana Airlines and leased from Avion Express. The aircraft retains the Avion Express livery. LY-VEW started out life far from Havana, first delivered to China Eastern Airlines. The images in the gallery below were taken on April 22, 2016 at Toronto Pearson International Airport (YYZ).
For full-size, high resolutions of any of the photos in the image gallery, simply click on the individual pictures. See below for more detailed information on this specific aircraft and the Airbus A320 model in general, along with info on both Cubana de Aviacion and Avion Express.
LY-VEW Cubana Airlines Airbus A320 Image Gallery
LY-VEW
LY-VEW made its maiden flight on April 15, 1999. On June 11, 1999, the Airbus A320-214 was delivered to China Eastern Airlines, registered as B-2203. Cubana has leased the aircraft from Avion Express since September 25, 2014. This airplane is configured in a one class system with a maximum of 174 passengers in economy class.

Airbus A320
The Airbus A320-200 was first introduced in 1988 with Air France. Nearly 7,500 of the A320 Family (including Airbus A321, Airbus A319 and Airbus A318) have been produced with nearly 4,400 of those being the A320 model.
The A320 is the base for the Airbus A320 Family. The aircraft is 38 metres or 123 feet in length with a wingspan of 36 metres or 118 feet. At the tail, the airplane stands 12 metres or 39 feet in height. The A321 is an extended version with a length of 45 metres or 146 feet. The A319 is smaller at 34 metres or 111 feet long and the A318 is the most compact at 31 metres or 103 feet in length. The flight range for the A320-200 is 6,100 kilometres.

Cubana de Aviacion
Cubana de Aviacion first flew in 1930 and was originally a subsidiary of Pan American World Airways. Cubana became wholly owned by the Cuban government after the 1959 revolution. This is the national airline of Cuba and is headquartered in Havana.
The fleet stands around 20 aircraft with 15 being Russian airlines made by Antonov or Ilyushin. There are five airplanes leased from Avion Express (A319 and A320). Cubana flies to over 20 destinations.
Cubana has codeshare agreements with Aeroflot, Air Caraibes, Avianca, Avianca El Salvador, Blue Panorama Airlines and Neos.

Avion Express
Avion Express is headquartered in Vilnius, Lithuania and was established in 2005 as Nordic Solutions Air Services. The airline was renamed Avion Express in 2008. The fleet consists of 16 aircraft (Airbus A321, Airbus A320 and Airbus A319). Avion Express operates two A320-200 for Iceland's low cost carrier WOW Air.

Resources
More Like This: