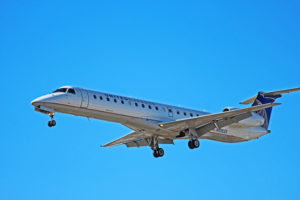 United Express is mind-boggling in its complexity. Nine different regional airlines fly for United Airlines under this brand. ExpressJet alone has over 120 airplanes flying for the brand, including N11551. The Embraer ERJ-145LR shown here was pictured on final approach to Toronto Pearson International Airport (YYZ) in May, 2017.
For full-size, high resolution versions of any of the photos in the image gallery, simply click on the individual pictures. See below for more detailed information on N11551, the Embraer ERJ-145LR model in general and the airlines.
N11551 United Express Embraer ERJ-145LR Image Gallery
N11551
N11551 was delivered to ExpressJet on April 10, 2002 and is one of over 120 aircraft flown for United Express by ExpressJet. This aircraft, like all of the airline's Embraer ERJ-145 models, is configured for 50 passengers in a one class system.

Embraer ERJ-145LR
The first Embraer ERJ-145 flew on August 11, 1995 and was introduced to the market on April 6, 1997. This model is still currently produced by Embraer, a company founded in 1969 and headquartered in Sao Jose Dos Campos, Sao Paulo, Brazil.
The aircraft is 30 metres or 98 feet in length with a wingspan of 20 metres or 66 feet. At the tail, the airplane stands seven metres or 22 feet in height. The LR stands for long range and the ERJ-145LR has a flight range of 2,870 kilometres.

United Express
United Express was founded in 1985 as a wholly owned brand name under the parent United Airlines. Flights are operated by nine different regional airlines, including: Air Wisconsin, Cape Air, CommutAir, ExpressJet, GoJet Airlines, Mesa Airlines, Republic Airline, SkyWest Airlines and Trans States Airlines. There is a total combined fleet of 504 aircraft.
The airline is headquartered in Chicago, Illinois. United Express, through the parent airline, is a member of the Star Alliance. United is a founding member of the airline alliance.

ExpressJet
Founded in 1986, ExpressJet commenced operations in 1987. The airline is headquartered in College Park, Georgia and is a wholly owned subsidiary of SkyWest airlines. Originally, they were a subsidiary of Continental Airlines until 2002.
ExpressJet operates flights as American Eagle, Delta Connection and United Express. Through these affilations, the airline is a member of the OneWorld Alliance through American Airlines, SkyTeam Alliance through Delta Air Lines and Star Alliance through United Airlines.
The ExpressJet fleet consists of 235 aircraft and flies to nearly 200 destinations. The fleet consists of regional jets made by either Embraer or Bombardier. All United Express flights are with Embraer airplanes while Delta Connection and American Eagle use the Bombardier models.

Resources
More Like This: