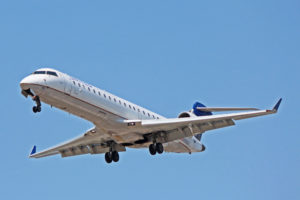 Commuter jets are airplanes, too! They're not all Boeing 747's and Airbus A380's, here at It's About Airplanes. N155GJ is a Bombardier CRJ-702 belonging to GoJet Airlines and operated for United Express. We photographed this aircraft while plane spotting at Toronto Pearson International Airport (YYZ) on July 21, 2017.
For full-size, high resolution versions of any of the photos in the image gallery, simply click on the individual pictures. See below for more detailed information on N155GJ, the Bombardier CRJ-702 model in general and the airline.
N155GJ United Express CRJ-702 (GoJet Airlines) Image Gallery
N155GJ
N155GJ was delivered to GoJet Airlines on October 31, 2005. This is one of 25 Bombardier CRJ-702 aircraft in the GoJet fleet dedicated to United Express. There have 22 more that are operated for Delta Connection. The Delta versions have one less seat with three more in business class but four less in economy. This particular aircraft is configured for a maximum total of 70 passengers with six seats in business class, 16 more in premium economy and 48 in economy class.
Bombardier CRJ-702
The Bombardier CRJ-702 was introduced in 2001 with Brit Air after taking its first flight on May 27, 1999. The stretched version of a CRJ-200, the CRJ-702 is 32 metres or 106 feet in length with a wingspan of 23 metres or 76 feet. At the tail, the airliner stands 7.6 metres or 25 feet in height. The flight range for the CRJ-702 is 2,553 kilometres.
United Express
Founded in 1985, United Express is a brand name under the parent United Airlines. Headquartered in Chicago, Illinois, the subsidiary has a fleet of 504 aircraft, all operated by regional carriers. There are nine regional airlines operating flights, including Air Wisconsin, Cape Air, CommutAir, ExpressJet, GoJet Airlines, Mesa Airlines, Republic Airline, SkyWest Airlines and Trans States Airlines. This is a member of the Star Alliance of airlines through affiliation with the parent company.
GoJet Airlines
GoJet Airlines was founded in 2004 and is headquartered in Bridgeton, Missouri. The airline flies to 57 destinations as a regional carrier under the United Express and Delta Connection brands. GoJet has a fleet of 54 aircraft with 47 CRJ-700 and seven CRJ-900 models. The airline is a member of the Star Alliance through their affiliation with United Airlines and also a member of the SkyTeam Alliance through their affiliation with Delta Airlines.
Resources
More Like This: