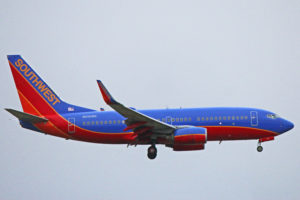 It was a dreary November day when we photographed N240WN at Buffalo Niagara International Airport (BUF), on the outskirts of Buffalo, New York. We captured the Southwest Airlines Boeing 737-700 on November 1, 2017, despite the overcast skies and constant drizzle. This is one of an incredible 513 Boeing 737-700 aircraft in the Southwest fleet.
For full-size, high resolution (although grainy because of the conditions) versions of any of the photos in the image gallery, simply click on the individual pictures. See below for more detailed information on N240WN, the Boeing 737-700 model in general and the airline.
N240WN Southwest Airlines Boeing 737-700 Image Gallery
N240WN
N240WN took its maiden flight on May 19, 2006 and was delivered to Southwest Airlines on June 5, 2006. The Boeing 737-7H4 is configured for a maximum total of 143 passengers, all in a single class system. This is one of 513 Boeing 737-700 airplanes in the Southwest fleet. The airliner is painted in the older 'Canyon Blue' livery, a paint scheme used from 2001 to 2014.
Boeing 737-700
The initial variant in the Boeing 737 Next Generation Family. The first Boeing 737-700 entered service in 1998 with Southwest Airlines and the airline remains the primary user of this type of aircraft. The airplane is 34 metres or 110 feet in length with a wingspan, with winglets, of 36 metres or 118 feet. At the tail, the 737-700 stands 13 metres or 41 feet in height, actually about an inch taller than the longer Boeing 737-800 and Boeing 737-900ER variants. The flight range is 5,570 kilometres.
Southwest Airlines
Southwest Airlines was founded on March 15, 1967 and commenced operations on June 18, 1971. The airline is headquartered in Dallas, Texas and has a fleet of 712 aircraft flying to 100 destinations. All aircraft in the fleet are a variant of the Boeing 737 with the Boeing 737-700 being the most numerous at over 500.
On order are Boeing 737 MAX 7 and Boeing 737 MAX 8 variants. Southwest will be the launch customer for the MAX 7, fortifying them as the largest operator of the Boeing 737 worldwide. In 2014, the company switched from the Canyon Blue livery, a paint scheme they had used since 2001, to the current Heart livery.
Resources
More Like This: