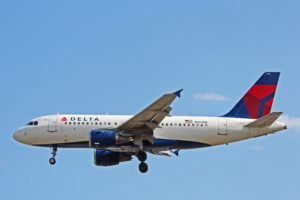 Just one of an incredible 855 aircraft in the main Delta Air Lines fleet, N301NB is one of 57 Airbus A319 airliners flying for the airline. We photographed this airplane on final approach to Toronto Pearson International Airport (YYZ) while plane spotting on August 25, 2017.
For full-size, high resolution versions of any of the photos in the image gallery, simply click on the individual pictures. See below for more detailed information on N301NB, the Airbus A319-100 model in general and the airline.
N301NB Delta Air Lines Airbus A319 Image Gallery
N301NB
N301NB took its first flight on July 20, 1999 and was delivered to Northwest Airlines on August 5, 1999. The Airbus A319 flew with Northwest until the airline was merged into Delta Air Lines on January 31, 2010. It officially joined the fleet the next day, February 1, 2010. Northwest Airlines commenced operations in 1934 and was a member of the SkyTeam Alliance. They had a fleet of 320 aircraft at the time of the merger and were flying to 254 destinations. Northwest was headquartered in Eagan, Minnesota.
This particular airliner is configured for a maximum total of 126 passengers with 12 seats in first class, 18 more in premium economy and 96 seats in economy class. As mentioned, this is one of 57 Airbus A319 aircraft in the Delta main fleet.
Airbus A319-100
The first Airbus A319 flew on August 25, 1995 and was introduced with Swissair in 1996. This is a shortened version of the Airbus A320, the initial variant in the A320 family which also includes the A319 and A321.
The aircraft is 34 metres or 111 feet in length with a wingspan of 36 metres or 118 feet. At the tail, the airliner stands 12 metres or 39 feet in height. The flight range for the A319 is 6,950 kilometres.
Delta Air Lines
Delta Air Lines was founded in 1924 and commenced operations in 1929. The airline is a founding member of the SkyTeam Alliance, along with Aeromexico, Air France and Korean Air. The alliance now has 20 full members and is headquartered at Amsterdam Airport Schiphol.
Headquartered in Atlanta, Georgia, Delta has a main fleet of 855 aircraft flying to 319 destinations around the world. Currently, the largest capacity airplanes in the fleet are the brand new Airbus A350-900 models. They have two in the fleet with 23 more on order. These are replacing the Boeing 747-400 models that are being phased out by the end of 2017.
Over its history, Delta has swallowed several major airlines. Some of the more memorable include Northeast Airlines, Northwest Airlines, Pan American World Airways and Western Airlines.
Resources
More Like This: