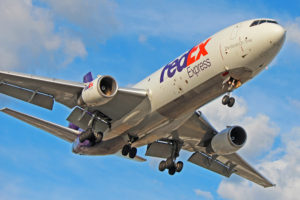 By 2020, they'll all be gone, at least from the FedEx fleet. N303FE is one of 13 McDonnell Douglas DC-10 (MD-10-30 variant) still among their fleet of 660 aircraft. The plan is to phase out these aircraft over the next two and a half years. N303FE dates all the way back to 1973, spending the first portion of its life as a passenger plane for long gone airlines that few remember.
We photographed this particular aircraft on August 13, 2017 while plane spotting at Toronto Pearson International Airport (YYZ). For full-size, high resolution versions of any of the photos in the image gallery, simply click on the individual pictures. See below for more detailed information on N303FE, the DC-10 model in general and the airline.
N303FE FedEx McDonnell Douglas DC-10 Image Gallery
N303FE
N303FE took its first flight on June 11, 1973 and was first delivered to Trans International Airlines on July 2, 1973 as N103TV. TIA was founded in 1947 as Los Angeles Air Service and ceased operations on September 30, 1986. The airline was headquartered in Oakland, California and was owned by Transamerica Corporation. The airline performed charter flights until it was transferred to the Transamerica Airlines fleet on October 1, 1979.
On December 1, 1981, the DC-10 was delivered to Air Florida. That airline commenced operations in 1972 and ceased ops on July 3, 1984 with most of the fleet bought by Midway Airlines. Air Florida was headquartered in Miami-Dade County, Florida. The low cost carrier had a fleet of 58 aircraft.
On February 29, 1984, the MD-10-30F was delivered to FedEx and the registration number was changed to N303FE. The aircraft was converted to a freighter and was named Macy.
On March 6, 1998, the aircraft was involved in an incident at Memphis International Airport in Memphis, Tennessee. A ramp worker was injured when he opened a door when the airplane had not fully depressurized. The result was the door blowing open when the worker released the lever.
McDonnell Douglas DC-10
The first McDonnell Douglas DC-10 (MD-10-30F) took its first flight on August 29, 1970 and entered service with American Airlines on August 5, 1971. This model of aircraft was last produced in 1988. A total of 446 were manufactured.
The MD-10-30F is 52 metres or 171 feet in length with a wingspan of 50 metres or 165 feet. At the tail, the airplane stands 18 metres or 58 feet in height. A large aircraft, it was quite smaller than the early Boeing 747-100 from the same era. The 747-100 was 61 feet longer with a wingspan that was 31 feet wider and a tail height that five feet higher. The flight range for the DC-10 is 10,622 kilometres.
FedEx
FedEx commenced operations in 1973 as Federal Express. The cargo company now has a fleet of 660 aircraft flying to over 375 destinations around the world. The company is headquartered in Memphis, Tennessee and the Memphis International Airport serves as the main hub for FedEx. As mentioned, the 13 MD-10-30F (McDonnell Douglas DC-10) still flying for FedEx will be phased out by 2020.
Resources
DC-10 Historic Site From Boeing
More Like This: