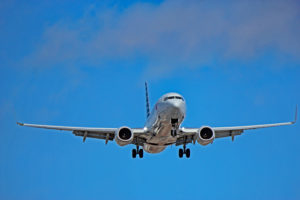 Just a baby. When N306NY was captured landing at Toronto Pearson International Airport (YYZ) on March 12, 2017, the Boeing 737-800 had only been with American Airlines for three months, less a day. Painted with the new style AA livery, this airplane seemed to stand out from it's 288 older 737-800 siblings in the American Airlines fleet. Incredibly, it's one of nearly 950 total aircraft in the AA fleet.
For large-sized, high resolution versions of any of the photos of N306NY in the image gallery below, simply click on the individual pictures. See below for more details on this specific airplane, the Boeing 737-800 model in general and the airline.
N306NY American Airlines Boeing 738-800 Image Gallery
N306NY
N306NY, officially a Boeing 737-823, took its first flight on November 28, 2016 and was delivered to American Airlines on December 13, 2016. This is one of 289 737-800 models in AA's main fleet and one of 939 aircraft total in the fleet (not including subsidiaries like American Eagle).
This aircraft is configured for a total of 160 passengers. There are 16 seats in business class, 30 more in premium economy and 114 in economy class.

Boeing 737-800
The Boeing 737-800 is a stretched version of the Boeing 737-700 at 19 feet longer. The -800 is in direct competition with the Airbus A320, leader of the A320 family. The first Boeing 737-800 entered service with Hapaq-Lloyd Flug (now TUIfly) in 1998. The original Boeing 737 was introduced in 1968.
This aircraft has a length of 40 metres or 130 feet with a wingspan of 36 metres or 118 feet. At the tail, the Boeing 737-800 stands 13 metres or 41 feet in height. The maximum range for this airplane is 4,300 kilometres.

American Airlines
American Airlines commenced operations in 1936 and is headquartered at CentrePort in Fort Worth, Texas. The airline has a fleet of 939 aircraft, not including regional subsidiaries. The Boeing 777-300ER is currently the largest airplane in the fleet. American flies to 350 destinations worldwide.
AA is a founding member of the OneWorld Alliance. The alliance was created in 1999 by American, British Airways, Canadian Airlines, Cathay Pacific and Australia's Qantas. A previous article on this site features a Boeing 747-400 with the British Airways OneWorld livery.

Resources
More Like This: