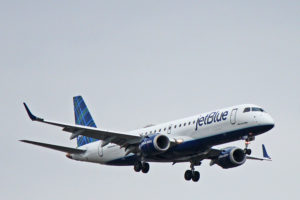 One of those airlines we don't see in Canada. It took a trip down to Buffalo Niagara International Airport (BUF) to capture some images of N318JB, a JetBlue Embraer E190. We photographed this airliner while plane spotting on November 2, 2017.
For full-size, high resolution versions of any of the photos in the image gallery, simply click on the individual pictures. See below for more detailed information on N318JB, the Embraer E190 model in general and the airline.
N318JB JetBlue Embraer E190 Image Gallery
N318JB
N318JB was manufactured in 2010 and delivered to JetBlue on June 30, 2010. The airline gave this Embraer ERJ-190AR the name 'Blue Jean Baby'. This is one of 60 E190 aircraft in the JetBlue fleet with 24 more on order. In fact, the first Embraer E190 entered service with this particular airline. The aircraft is configured for a maximum total of 100 passengers with 16 seats in 'Even More Space' (premium economy) and 84 seats in 'Coach' (economy class).
Embraer E190
The first Embraer E190 took flight on March 12, 2004 and the first was delivered to JetBlue in 2005. The aircraft is 36 metres or 119 feet in length with a wingspan of 29 metres or 94 feet. At the tail, the airliner stands eleven metres or 35 feet in height. The maximum flight range is 4,537 kilometres, about 900 KM less than the Boeing 737-800.
The E190 is a member of Embraer's E-Jet family that also includes the E170, E175 and E195. The E190 is the most popular variant with nearly 550 delivered, to date.
JetBlue
JetBlue was founded in August, 1998 and commenced operations on February 11, 2000. Headquartered in Long Island City, New York, the airline has a fleet of 238 aircraft flying to 101 destinations. The fleet consists of Airbus A320-200, Airbus A321-200 and Embraer E190 aircraft. On order are Airbus A320neo and Airbus A321neo variants.
The airline flies to destinations in the United States, Mexico, the Caribbean islands, Central America and South America. JetBlue performed the first scheduled commercial flight between the U.S. and Cuba since the Cuban Revolution.
Resources
More Like This: