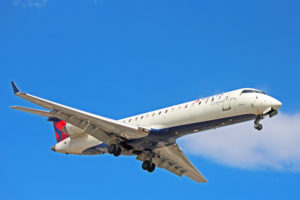 One of the foot soldiers that wears the Delta Connection livery, N379CA is a Bombardier CRJ-700 operated by GoJet Airlines. We photographed this airliner on July 2, 2017 while plane spotting at Toronto Pearson International Airport (YYZ).
For full-size, high resolution versions of any of the photos in the image gallery, simply click on the individual pictures. See below for more detailed information on N379CA, the Bombardier CRJ-700 model in general and the airline.
N379CA Delta Connection Bombardier CRJ-700 Image Gallery
N379CA
N379CA was originally delivered to Comair on May 9, 2003. On April 8, 2008, the Bombardier CRJ-700 was transferred to Atlantic Southeast Airlines. For a short time during the month of January, 2012, the aircraft belonged to ExpressJet. On January 30, 2012, N379CA was finally delivered to GoJet. All the while, the airplane was flying for Delta Connection. The CRJ-700 is configured for a total of 69 passengers with nine seats in first class, 16 more in premium economy and 44 in economy class.
Bombardier CRJ-700
The Bombardier CRJ-700 was introduced in 2001 with Brit Air. The aircraft model had made its first flight on May 27, 1999 and is a stretched version of the CRJ-200, built by Bombardier Aerospace. The airplane is 32 metres or 106 feet in length with a wingspan of 23 metres or 76 feet. At the tail, the height is 7.6 metres or 25 feet. The flight range for this airliner is 2,553 kilometres.
Delta Connection
Delta Connection is the regional operator brand of Delta Air Lines. Six different airlines perform flights for Delta Connection, including Endeavor Air, ExpressJet, SkyWest Airlines, Compass Airlines, GoJet Airlines and Republic Airline. Together, they total nearly 500 aircraft. Through affiliation with the parent company, all are members of the SkyTeam Alliance. Endeavor Air is the only wholly owned airline of Delta.
GoJet Airlines
Founded in 2004, GoJet Airlines flies regional flights for United Express and Delta Connection with a fleet of 54 aircraft. The fleet consists of 47 CRJ-700 airplanes, 25 in the United livery and 22 painted in Delta's colours, along with seven Bombardier CRJ-900 that all fly for Delta.
Headquartered in Bridgeton, Missouri, GoJet flies to 57 destinations. Through United, the airline is a member of the Star Alliance and through Delta, GoJet is a member of the SkyTeam Alliance.
Resources
More Like This: