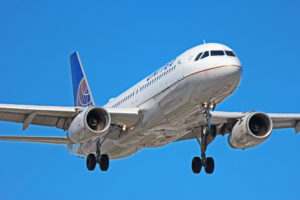 1 of 97 Airbus A320-200 aircraft in the United Airlines fleet. N403UA is a small cog in a large machine. The Airbus A320 has been flying safely for United since 1993 with just one notable incident, but not a mechanical issue. The airplane had to divert a flight in 2011 to remove three unruly passengers.
For full-size, high resolution versions of any of the photos in the image gallery, simply click on the individual pictures. The photos were taken on June 8, 2017 at Toronto Pearson International Airport (YYZ). See below for more detailed information on N403UA, the Airbus A320 model in general and the airline.
N403UA United Airlines Airbus A320 Image Gallery
N403UA
N403UA made its first flight on October 12, 1993 and entered service with United Airlines on December 20, 1993. This is one of 97 Airbus A320 aircraft in the United fleet. The aircraft is configured for a total maximum of 150 passengers with 12 seats in first class, 42 more in premium economy and 96 in economy class.
On March 29, 2011, N403UA was performing a flight from Washington, D.C. to Portland, Oregon. At 34,000 feet, just northwest of Chicago, the crew decided to divert back to Chicago to remove three passengers who would not comply with cabin crew instructions. It seems one of the three men was on his hands and knees in the aisle, sick. The other two apparently would not return to their seats and put their seat belts on during a period of turbulence.
Airbus A320-200
The first A320 was introduced in 1988 with Air France. Since, nearly 7,500 in the A320 family have been manufactured with close to 4,400 of those being the A320-200. The extended version is the A321 at 23 feet longer. The A319 is 12 feet shorter and the A318 is 20 feet shorter than the A320
The Airbus A320 is 38 metres or 123 feet in length with a wingspan of 36 metres or 118 feet. At the tail, the aircraft stands 12 metres or 39 feet in height. The flight range for this airliner is 6,100 kilometres.
United Airlines
United Airlines was founded in 1926 and commenced operations in 1931. The airline is headquartered inside the Willis Tower (formerly Sears Tower) in downtown Chicago, Illinois. The founding member of the Star Alliance has a fleet of 738 aircraft that fly to 342 destinations worldwide.
The final 18 Boeing 747-400 aircraft will be phased out by the end of October, 2017. This makes the Boeing 777-300ER United's flagship airliner. The most found airplane in the United fleet is the Boeing 737-800 with 141.
Resources
More Like This: