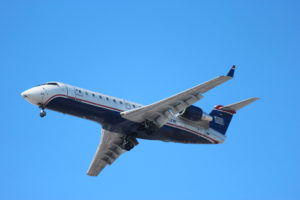 Back in March of 2015, when the images in the gallery below were taken at Toronto Pearson International Airport (YYZ), N414ZW wore the colours of U.S. Airways. Since, the airline has merged with with American Airlines. The Bombardier CRJ-200LR has been owned and operated by Air Wisconsin all along. These days, N414ZW is operated, and wears the livery of, American Eagle.
For full-size, high definition versions of any of the pictures in the gallery below, simply click on the individual photos. For more details on this specific aircraft, the airplane model in general and the airline, see below.
N414ZW US Airways CRJ-200LR Image Gallery
N414ZW
Owned and operated by Air Wisconsin, N414ZW now flies for American Eagle Airlines. The aircraft was delivered to Air Wisconsin on November 28, 2001 and has never left the fleet. The airplane is configured for 50 passengers, all in economy class.
This CRJ-200 has a clean safety record. However, on October 4, 2010 the airplane was involved in an unsual incident. N414ZW had just completed a flight from Greensboro, North Carolina (GSO) to New York's La Guardia Airport (LGA). A female passenger tripped and fell on the stairs, exiting the aircraft. The result was a broken wrist.

Bombardier CRJ-200LR
935 of these aircraft were built by Bombardier (Canadair Regional Jet) between 1991 and 2006. Most U.S. airlines are phasing out these planes due to higher fuel consumption. They are being replaced with Embraer E-175 and Bombardier CRJ-700. Air Wisconsin is currently the third largest operator of this type of aircraft, behind Skywest Airlines and ExpressJet.
The CRJ-200LR is 27 metres or 88 feet long with a wingspan of 21 metres or 70 feet. At the tail, the aircraft stands six metres or 20 feet tall. The flight range for the LR version is 3,713 kilometres, significantly further than the ER version which has a range of 3,045 km.

U.S. Airways
U.S. Airways was founded in 1937 and commenced operations in 1939. The airline ceased operations on October 17, 2015 after merging with American Airlines. Between 2004 and 2014, U.S. Air was a member of the Star Alliance. From 2014 to the merger with AA, the airline was a member of OneWorld Alliance.
At the time of the merger, there were 338 aircraft in the U.S. Airways fleet with 278 more with U.S. Airways Express. The airline traveled to 193 destinations and was headquartered in Tempe, Arizona.

Air Wisconsin
Air Wisconsin commenced operations in 1965 and is headquartered in Appleton, Wisconsin. With their affiliation with American Eagle, Air Wisconsin is a member of the OneWorld Alliance.
The airline has a fleet of 66 aircraft, all Bombardier CRJ-200 and all configured for 50 passengers. Through American Eagle, Air Wisconsin travels to 69 destinations throughout the United States and Canada.

Resources
More Like This: