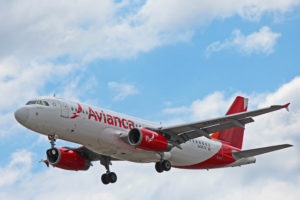 Avianca Airlines. Avianca Central America. Avianca Costa Rica. Whatever you want to call the airline, we photographed N495TA while plane spotting at Toronto Pearson International Airport (YYZ) on July 29, 2017. The Airbus A320-200 is painted with the standard Avianca livery and wears the flag of Costa Rica.
For full-size, high resolution versions of any of the photos in the image gallery, simply click on the individual pictures. See below for more detailed information on N495TA, the Airbus A320-200 model in general and the airline.
N495TA Avianca Costa Rica Airbus A320-200 Image Gallery
N495TA
N495TA took its first flight on March 22, 2007 and was delivered to TACA on April 18, 2007. TACA (Transportes Aereos Del Continente Americano) was founded in 1931 and merged into Avianca in May, 2013. The airline was headquartered in San Salvador, El Salvador. On March 31, 2014, N495TA was transferred to Avianca Central America, wearing the Costa Rican flag and flying for Avianca's Costa Rica subsidiary.
The Airbus A320 is configured for a maximum total of 150 passengers. There are 12 seats in business class with 138 more in economy class. This is one of 27 A320 aircraft in the Avianca Costa Rica fleet.
Airbus A320-200
The initial variant of the Airbus A320 family, the A320-200 was first introduced with Air France in 1988. Since, nearly 4,400 have been manufactured. The aircraft is 38 metres or 123 feet in length with a wingspan of 36 metres or 118 feet. At the tail, the airplane stands 12 metres of 39 feet in height. The maximum flight range is 6,100 kilometres.
The A320 is 23 feet shorter than the stretched Airbus A321, 12 feet longer than the A319 and 20 feet shorter than the A318.
Avianca Airlines (Costa Rica)
Founded in 1945 as LACSA, or Lineas Aereas Costarricenses S.A., the airline was merged into Avianca in May, 2013. The original airline was formed by Pan American World Airways, the government of Costa Rica and other private investors.
The airline is headquartered in San Jose, Costa Rica and is a member of the Star Alliance through affiliation with the parent airline. Currently, there is a fleet of 44 aircraft, flying to 35 destinations. The fleet consists of Airbus A321, Airbus A320, Airbus A319 and Embraer ERJ-190 models. The most numerous in the fleet is the A320 with 27.
Resources
More Like This: