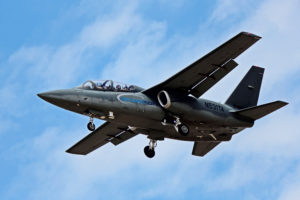 From a distance, it looked a little like a CF-188 Hornet, not entirely uncommon at Toronto Pearson International Airport (YYZ). In fact, a week after photographing N531TA, we did spot another CF-188. It turns out, this aircraft was a real treat. N531TA is one of just two Textron AirLand Scorpion aircraft that have been manufactured, to date. Also known as a Cessna E530, the air force training airplane has not yet been mass produced.
For full-size, high resolution versions of any of the photos in the image gallery, simply click on the individual pictures. See below for more detailed information on N531TA, the Scorpion model in general and the manufacturer. We photographed the airplane while plane spotting at YYZ on July 20, 2017.
N531TA Textron AirLand Scorpion Image Gallery
N531TA
N531TA was manufactured in 2013 and is one of two Textron AirLand Scorpion aircraft to be produced, to date. On the side of the aircraft, below the cockpit window, it states, "See. Sense. Sting." On the inside of the two tails, it is branded with the Textron AirLand name.
Scorpion (Cessna E530)
The first Textron AirLand Scorpion made its first flight on December 12, 2013. As mentioned, just two have been manufactured. The aircraft was built by Cessna at their Wichita, Kansas facility. Cessna falls under the Textron conglomerate of companies.
This aircraft allows for a crew of two and is 13.26 metres or 44 feet in length. The wingspan is 14.43 metres or 47 feet and, at the tail, the airplane stands 4.3 metres or 14 feet in height. The maximum speed is 833 kilometres per hour and the Scorpion has a flight range of 4,445 KM.
Textron AirLand
Textron was originally founded in 1923 as Special Yarns Corporation, with a focus on producing synthetic yarns and certainly not on military jet planes. By the late 1930's, the name changed to Atlantic Rayon Corporation. In the late 1940's, the Textron name came about.
Headquartered in Providence Rhode Island, Textron is now a conglomerate that owns aviation companies like Bell Helicopter, Cessna Aircraft and Beechcraft. Cessna has existed in Wichita, Kansas since 1927. Textron acquired the popular small aircraft manufacturer in 1992.
Resources
Article From 2015 Paris Air Show
More Like This: