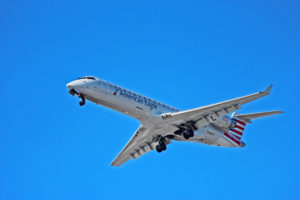 In its relatively short life, N546FF has sort of bounced around while really staying in one spot. Welcome to corporate america, young Bombardier CRJ-702. The aircraft has always had the American Eagle livery. However, in April, 2014 the official ownership was transferred to Envoy Air. In May, 2015, N546FF was then transferred to PSA Airlines.
Regardless of the paperwork, it's all American Airlines. The American Eagle brand is fully owned by AA and operated by ten different regional airlines. For more information on this specific airplane, the CRJ-702 model in general and the airline(s), see below the gallery.
The images in the gallery were taken March 9, 2015 at Toronto Pearson International Airport (YYZ). For full-sized, high definition versions, simply click on the individual photos.
N546FF American Eagle CRJ-702 Image Gallery
N546FF
N546FF was originally delivered to American Eagle on April 20, 2011. On April 15, 2014, the Bombardier CRJ-702 was transferred to Envoy Air, the American Airlines subsidiary that was formerly American Eagle. On May 30, 2015, the aircraft was transferred to PSA Airlines, a wholly owned subsidiary of American Airlines.
This is one of 26 CRJ-700 Family airplanes currently in the PSA Airlines fleet. By the end of 2017, 35 more will have been transferred from Envoy Air. The CRJ-702 is configured with nine first class seats, along with 58 more in economy class for a maximum total of 67 passengers.
An incident occurred on October 14, 2014 when the plane was operated by Envoy. On a flight from Midland, Texas to Dallas Ft. Worth, the crew received an indication of an overheated outboard brake on the left outboard main wheel. The flight was diverted to Abilene, Texas. N546FF landed safely and the overheat indication was proved to be false.

Bombardier CRJ-702
Manufactured by Bombardier Aerospace, the first CRJ-700 made its first flight in 1999 and was introduced with Brit Air in 2001. As of the start of 2017, around 800 planes in the CRJ-700 family have been built (CRJ-700, CRJ-701, CRJ-702). The CRJ-702 has the largest passenger capacity with a maximum of 78.
The aircraft is 32 metres or 106 feet in length with a wingspan of 23 metres or 76 feet. At the tail, the CRJ-702 stands eight metres or 25 feet in height. The maximum flight range for this airplane is 2,553 kilometres.

American Eagle
American Eagle was originally founded in 1984 and was rebranded as Envoy Air, a subsidiary of American Airlines, in 2014. The American Eagle name was kept and is used as AA's regional carrier. Ten regional airlines operated flights under the American Eagle name. Envoy Air, Piedmont Airlines and PSA Airlines are wholly owned subsidiaries of American Airlines.
The fleet consists of 628 aircraft and the airline flies to 242 destinations.

PSA Airlines
PSA Airlines commenced operations in 1995 and is headquartered in Dayton, Ohio. Through American Airlines, PSA is a member of the OneWorld Alliance. Their fleet of 115 aircraft is made up of Bombardier CRJ-200, CRJ-700 and CRJ-900. PSA Airlines travels between 68 destintions.

Resources
More Like This: