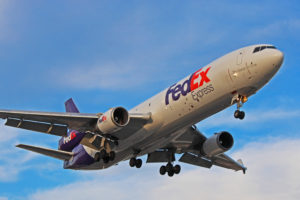 N583FE is certainly not the oldest aircraft in the FedEx fleet with the company still flying DC-10 models that were introduced in the early 1970's. This McDonnell Douglas MD-11 is even newer than the fleet of Air Transat Airbus A310-300 airliners that regularly fly in and out of Toronto Pearson International Airport (YYZ). Still, the airplane is a living legend and part of a dying breed of three engine models.
For full-sized, high resolution versions of any of the photos in the image gallery, simply click on the individual pictures. See below for more detailed information on N583FE, the McDonnell Douglas MD-11 model in general and the airline.
N583FE FedEx McDonnell Douglas MD-11 Image Gallery
N583FE
N583FE took its first flight on October 12, 1990 and was delivered to American Airlines on April 22, 1991. With AA, the aircraft was registered N1752K and was a passenger airliner. It was later converted to a freighter and delivered to Federal Express on June 11, 1997 with its present registration number.
On June 29, 1994, this aircraft was involved in an incident causing several injuries, resulting from human error. Flying for American Airlines from Miami, Florida to Buenos Aires, Argentina, the MD-11 was just south of Cuba when troubles began. A flight attendant was attempting to put down a container of drinks but the first officer's seat was in the way. The reserve first officer reached across and activated the first officer's seat to shift it out of the way. The first officer was resting and as the seat moved forward, his legs pushed forward on the column.
The result was auto pilot being deactivated and the aircraft taking a bit of an unexpected nose dive. One flight attendant received serious injuries while 12 passengers and three more flight attendants received minor injuries. The aircraft diverted back to Miami for a safe landing.
Flying with FedEx on January 15, 2003, the McDonnell Douglas MD-11 had troubles on a flight from Paris, France to Stansted, England and then on to Newark, New Jersey. On approach to Stansted, it was noticed the flaps were acting up. A thump was heard, similar to a bird strike. After landing, the crew received a HYD 2 FAIL message. It was found that a large section of the left inboard flap vane was missing. It was later found in the village of Thaxted, around six miles away from Stansted.
McDonnell Douglas MD-11
The first McDonnell Douglas MD-11 flew on January 10, 1990 and was introduced with Finnair in December of that year. The aircraft was produced from 1988 to 2000 and, overall, 200 were manufactured. As a passenger plane, this aircraft could hold 323 passengers in a two class configuration and 293 in a three class system.
The aircraft is 62 metres or 202 feet in length with a wingspan of 52 metres or 170 feet. At the tail, the MD-11 is 18 metres or 58 feet in height. As a passenger plane, this airliner had a flight range of 12,670 kilometres.
FedEx
FedEx commenced operations in 1973 and now flies to over 375 destinations around the world. Headquartered in Memphis, Tennessee, Federal Express has a fleet of 660 aircraft. 59 of those aircraft are McDonnell Douglas MD-11 models. This means they are flying over a quarter of all the MD-11's ever built.
Resources
More Like This: