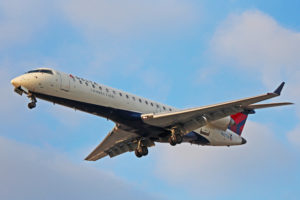 N607SK is but a small speck in the massive Delta Air Lines network. To fully understand Delta, you need a presentation with flow charts, graphs and maps. However, this Bombardier CRJ701ER is flown for Delta Connection by SkyWest Airlines and we photographed it on final approach to Toronto Pearson International Airport (YYZ) while plane spotting on December 3, 2017.
For full-size, high resolution versions of any of the photos in the image gallery, simply click on the individual pictures. See below for more detailed information on N607SK, the Bombardier CRJ701ER model in general and the airline.
N607SK Delta Connection/SkyWest Airlines Bombardier CRJ701ER Image Gallery
N607SK
N607SK was delivered to SkyWest Airlines on March 17, 2006. This is one of 27 Bombardier CRJ700 aircraft flown by SkyWest for the Delta Connection brand. Also known as a CL-600-2C10, the CRJ701ER is configured for a maximum total of 69 passengers with nine seats in first class, 16 more in premium economy and 44 seats in economy class.
Bombardier CRJ701ER
The Bombardier CRJ700 series was introduced in 2001 with Brit Air after taking its maiden flight on May 27, 1999. The aircraft, manufactured by Bombardier Aerospace, is a stretched version of the CRJ-200. The airliner is 32 metres or 106 feet in length with a wingspan of 23 metres or 76 feet. At the tail, the CRJ700 stands 7.6 metres or 25 feet in length. The flight range for the CRJ701ER is 2,553 kilometres.
Delta Connection
Delta Connection is the regional brand for Delta Air Lines. All together, there are 468 aircraft flown for Delta Connection by six regional operators. These include Endeavor Air, ExpressJet, SkyWest Airlines, Compass Airlines, GoJet Airlines and Republic Airline. Of these, just Endeavor is a wholly owned subsidiary of Delta. Through the parent company, this is a member of the SkyTeam Alliance.
SkyWest Airlines
SkyWest Airlines was founded in 1972 and is headquartered in St. George, Utah. Currently, the airline has a fleet of 420 aircraft flying to 238 destinations. SkyWest operates flights for American Eagle, Alaska SkyWest, Delta Connection and United Express.
The airline has the unique position of belonging to all three major airline alliances. Through Delta Connection, they are a member of SkyTeam. Through United Express they are a member of the Star Alliance. Through American Eagle, they are a member of the Oneworld Alliance.
Resources
More Like This: