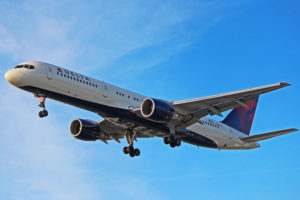 They might be a common sight in the United States but the Boeing 757-200 model, like N655DL is a rare bird in Canada. Air Canada and WestJet have never flown this kind of aircraft. Canada 3000 had 14 in service but the airline ceased operations in 2001. Air Transat is an operating airline that did once fly the B752 for passenger service. We photographed this Delta Air Lines airliner while plane spotting at Toronto Pearson International Airport (YYZ) on October 19, 2017.
For full-size, high resolution versions of any of the photos in the image gallery, simply click on the individual pictures. See below for more detailed information on N655DL, the Boeing 757-200 model in general and the airline.
N655DL Delta Air Lines Boeing 757-200 Image Gallery
N655DL
N655DL took its first flight on February 12, 1990 and was delivered to Delta Air Lines on February 28, 1990. For a short while between May, 2005 and May, 2006, the Boeing 757-200 flew for Song, a low cost carrier brand owned and operated by Delta. Song was founded in 2003 and ceased operations on May 1, 2006. The brand had a fleet of 48 aircraft, all B752, flying to 17 destinations.
This is one of 101 Boeing 757-200 models in the Delta fleet. There were just over 900 put into service. This means that the airline is still flying over 10% of the B752 passenger planes ever produced. Delta has a handful of seating configurations for this type of aircraft and we're not sure exactly how many passengers N655DL can hold.
On August 22, 2011, the airplane was flying from Georgetown, Guyana to New York's John F. Kennedy International Airport (JFK). About 230 miles north of San Juan, Puerto Rico, an emergency descent was necessary due to loss of cabin pressure. The oxygen masks were deployed and the B752 was diverted back to San Juan for a safe landing.
Boeing 757-200
The original variant in the Boeing 757 Family, the Boeing 757-200 first entered service in 1983 with Eastern Air Lines. That last one was produced in 2004 with a total of 913 being delivered. The B752 is 47 metres or 155 feet in length with a wingspan of 38 metres or 125 feet. At the tail, the aircraft stands 14 metres or 45 feet in height. The flight range is 7,250 kilometres.
Delta Air Lines
Delta Air Lines was founded in 1924 and commenced operations in 1929. A founding member of the SkyTeam Alliance, along with AeroMexico, Air France and Korean Air, the airline is headquartered in Atlanta, Georgia. Delta flies to 319 destinations worldwide.
The main fleet has over 850 aircraft. Their six remaining Boeing 747-400 models are set to be phased out by the end of 2017. With two in the fleet, after the B744, the new Airbus A350-900 aircraft will be the largest. Delta does not fly any Boeing 777-300ER airliners, just 777-200ER and 777-200LR variants.
Through the years, Delta has swallowed up several already large U.S. airlines in becoming the giant they are today. Included are Northeast Airlines, Northwest Airlines, Pan American World Airways and Western Airlines.
Resources
More Like This: