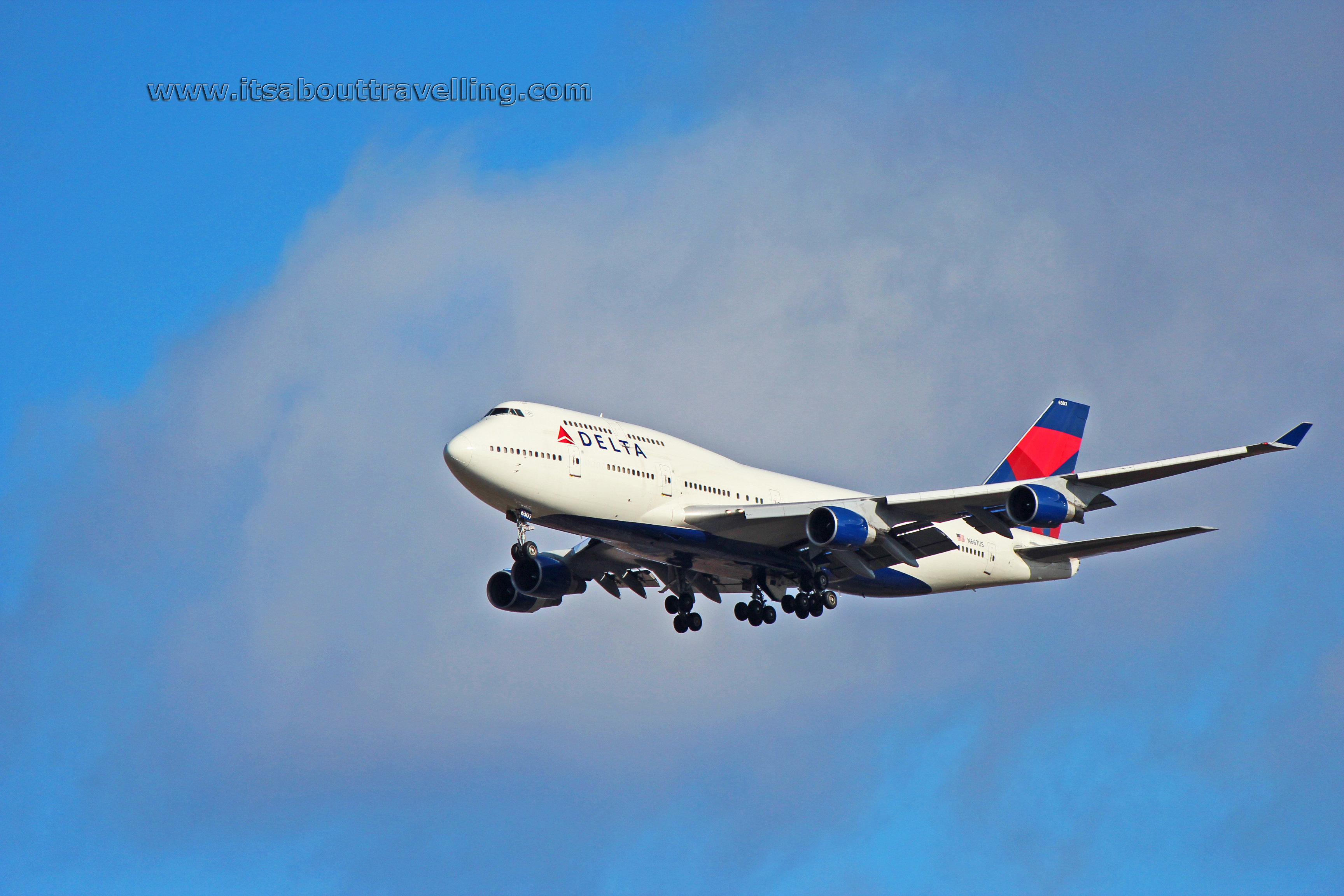 By the end of 2017, this Boeing 747-400 (N667US) is expected to be retired by Delta Airlines. Life started for the jumbo jet in 1990 with Northwest Airlines. Northwest merged with Delta and N667US was moved to the Delta fleet on December 31, 2009.
The images in the gallery below were taken on March 3, 2012 at Detroit Metro Airport (DTW). For full sized, high definition images, simply click on any of the individual photos in the gallery. See below for more detailed information on this specific aircraft, Boeing 747-400's in general and the airline.
N667US Delta Airlines Boeing 747 Image Gallery
N667US
This Boeing 747-400, registered N667US, took its first flight on June 28, 1990 and was delivered to Northwest Airlines on July 20, 1990. When Northwest merged with Delta, this jumbo jet was repainted in Delta colours for December 31, 2009.
Northwest Airlines ceased operations on January 31, 2010 after the merge. Like Delta, Northwest was a member of the SkyTeam Alliance. The airline traveled to 254 destinations worldwide with a fleet of 320 aircraft.
N667US is configured for 376 passengers. 48 seats are designated business class with 42 more in premium economy and 286 in economy class. As mentioned, Delta is slated to retire this aircraft by the end of 2017. The airline will have no more Boeing 747's moving into 2018.
Back in May, 2010, N667US had a pair of incidents. On May 6, 2010, the Boeing 747 was headed from Manila in the Philippines to Toyko, Japan. After a seemingly safe landing at Toyko Narita International Airport (NRT) it was discovered that engine number four was extensively scratched and had made contact with the runway surface upon landing.
On May 23, 2010, N667US was traveling from Atlanta, Georgia to Tokyo, Japan. Over Alberta, Canada, there were several EICAS messages. An emergency was declared and the aircraft returned to the United States and landed safely in Minneapolis, Minnesota. Maintenance replaced the EICAS interface and the Boeing 747 was good to go.

Boeing 747-400
The -400 version of the Boeing 747 was introduced in 1989, 20 years after the first Boeing 747 came on board in 1969. In all, 694 of the Boeing 747-400 were built. Many have been retired and the skies will be empty of this version within the next year or so.
The airliner stands 19.4 metres high at the tail. The length is 70.7 metres with a wingspan of 64.4 metres. Cruise range is a decent but no longer incredible 12,500 kilometres.

Delta Airlines
Delta Airlines was founded in 1924 as Huff Daland Dusters in Macon, Georgia. The passenger airline commenced operations in 1929. Currently, Delta is headquartered at Hartsfield – Jackson Atlanta International Airport (ATL).
A member of the SkyTeam Alliance, Delta was a founding airline in 2000. The ill-fated Northwest Airlines joined in 2004. SkyTeam is headquartered at Schiphol Airport in Amsterdam, Netherlands. Delta flies to 319 destinations worldwide and has a mind-boggling fleet of 856 aircraft.

Resources
Hartsfield Jackson Atlanta Airport
More Like This: