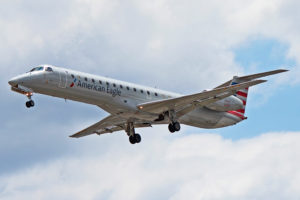 N674RJ is now flown by Envoy Air for American Eagle, a regional brand of American Airlines. The Embraer ERJ-145LR is a 50 seat aircraft and one of 59 flown by Envoy. We photographed N674RJ while plane spotting at Toronto Pearson International Airport (YYZ) on July 29, 2017.
For full-size, high resolution versions of any of the photos in the image gallery, simply click on the individual pictures. See below for more detailed information on N674RJ, the Embraer ERJ-145LR model in general, American Eagle and Envoy Air.
N674RJ American Eagle / Envoy Air Embraer ERJ-145LR
N674RJ
N674RJ was delivered to American Eagle on April 20, 2004 when the name was attached to an actual airline. When American Eagle became a brand under American Airlines, the Embraer ERJ145LR was then transferred to Envoy Air. Complicated but not really, the airliner has always performed regional flights for American Airlines.
This aircraft is configured for a maximum total of 50 passengers, all in economy class with three of those seats containing extra leg room. This is one of 59 E145 airplanes flown by Envoy Air for American Eagle.
On January 10, 2014, N674RJ experienced a small problem on a flight from Madison, Wisconsin to Dallas / Ft. Worth, Texas. Climbing out of Madison, crew reported a banging noise in the cockpit. The aircraft was diverted to Cedar Rapids, Iowa for a safe landing. Maintenance boarded the ERJ-145 and the flight continued on to its planned destination over five hours later.
Embraer ERJ-145LR
The Embraer ERJ-145 took its maiden flight on August 11, 1995 and was introduced on April 6, 1997. The 50 passenger aircraft is 30 metres or 98 feet in length with a wingspan of 20 metres or 66 feet At the tail, it stands seven metres or 22 feet in height. The flight range for the LR version is 2,870 kilometres.
American Eagle
American Eagle is a brand under American Airlines but started out as a standalone airline in 1984. The original airline is now Envoy Air, which flies under the American Eagle brand. Including Envoy, there are ten regional airlines performing flights. The others include Air Wisconsin, Compass Airlines, ExpressJet, Mesa Airlines, Piedmont Airlines, PSA Airlines, Republic Airline, SkyWest Airlines and Trans States Airlines.
Through the parent company, this brand is a member of the Oneworld Alliance. All together, there are 639 aircraft, all models manufactured by either Bombardier or Embraer. These airliners fly to 242 destinations.
Envoy Air
Originally founded in 1984 as American Eagle Airlines, the airline was rebranded as Envoy Air in January, 2014. Headquartered in Irving, Texas, Envoy is a member of the Oneworld Alliance through affiliation with American Airlines. The fleet of 169 aircraft is made up of Bombardier CRJ700, Embraer ERJ-140, Embraer ERJ-145 and Embraer ERJ-175 models. These airplanes fly to 170 destinations.
Resources
Bombardier Commercial Aircraft
More Like This: