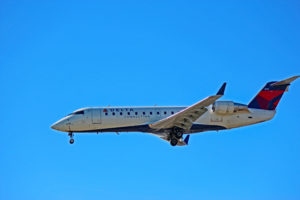 It's a complicated story when you look beneath the surface in the life of N686BR. The simple story is that the Bombardier CRJ-200ER has always been flown for Delta Connection. The regional operator has changed names several times since this aircraft first entered service in November, 2002 and is now flown by Endeavor Air. More on this airplane's lifeline below.
The images of N686BR in the gallery were taken on May 20, 2017 at Toronto Pearson International Airport (YYZ). For full-size, high resolution versions of any of the photos, simply click on the individual pictures. See below for more detailed information on N686BR, the Bombardier CRJ-200ER model in general and the airlines involved.
N686BR Delta Connection Bombardier CRJ-200ER Image Gallery
N686BR
On November 26, 2002, N686BR was delivered to Atlantic Coast Airlines. The airline was founded in 1989, was headquartered in Dulles, Virginia and ceased operations on January 5, 2006. In November, 2003, the name was changed to Independence Air.
On September 15, 2006, N686BR was added to the Atlantic Southeast Airlines fleet. This airline was founded in 1979 and ceased operations on December 31, 2011 when it was merged into ExpressJet, both having headquarters in College Park, Georgia. N686BR was transferred immediately into the ExpressJet fleet.
On February 1, 2017, this CRJ-200ER was transferred to the fleet of Endeavor Air. Endeavor is a wholly owned subsidiary of Delta Air Lines.
Recently, on April 25, 2017, the airplane experienced a little trouble on a flight from Toronto, Ontario to Detroit, Michigan. After taking off from Toronto Pearson International Airport, the gear would not go up. An "ANTISKID INBD" message, along with a "PARKING BRAKE SOV" message was received by the crew.
The climb was stopped at 15,000 feet and the CRJ-200ER returned to Toronto for a safe landing. A landing gear control handle was replaced and no further fault was found.

Bombardier CRJ-200ER
The first Bombardier CRJ-200 took flight in May, 1991 and was introduced with Lufthansa in 1992. This model was last produced in 2006 with 1,021 built. SkyWest remains the largest operator of the aircraft.
The CRJ-200ER is 27 metres or 88 feet in length with a wingspan of 21 metres or 70 feet. At the tail, the aircraft stands six metres or 20 feet in height. The ER model has a flight range of 2,491 kilometres. The LR model has a longer range of 3,148 KM.

Endeavor Air
Endeavor Air was founded in 1985 as Express Airlines I and changed names to Pinnacle Airlines in 2002. Pinnacle became a wholly owned subsidiary of Delta Air Lines in 2012 and the name was changed To Endeavor Air on August 1, 2013.
The airline is headquartered at Minneapolis-Saint Paul International Airport (MSP) and is member of the SkyTeam Alliance through the parent company. Endeavor has a fleet of 136 aircraft, 55 Bombardier CRJ-200 and 81 Bombardier CRJ-900.

Delta Connection
Delta Connection is a regional brand of Delta Air Lines. There are six regional airlines that operate flights for Delta Connection, including: Endeavor Air, ExpressJet, SkyWest Airlines, Compass Airlines, GoJet Airlines and Republic Airline. Endeavor is the only airline in the group wholly owned by Delta. The combined fleet numbers 483 aircraft.

Resources
Minneapolis – Saint Paul International Airport
More Like This: