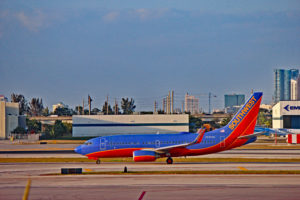 One of nearly 500 Boeing 737-700's in service for Southwest Airlines, N740SW is just a tiny minion in a mega air travel machine. This aircraft is sporting the Canyon Blue livery that was used from 2001 to 2014. The images were taken on February 12, 2013 so a new paint job wasn't too far off in the future.
The photos in the gallery were taken at Fort Lauderdale – Hollywood International Airport (FLL) in Ft. Lauderdale, Florida. For full-size, high definition versions of each, just click on the individual images. For more information on this specific airplane, Boeing 737-700's in general and the airline, see below.
N740SW Southwest Airlines Boeing 737-700 Image Gallery
N740SW
N740SW took its first flight on November 11, 1998 and was delivered to Southwest Airlines on November 30, 1998. The airplane is configured for 137 passengers. The airplane is a workhorse, typically making between six to eight flights each day. Technically, this is a Boeing 737-7H4.
As mentioned, in the image above, the airliner is painted in the Canyon Blue livery that Southwest used from 2001 to 2014. They have since redesigned with a darker blue with the brand more prominent on the side of the aircraft.
N740SW has lived a safe live, going incident free. However, a similar Boeing 737-700 belonging to Southwest Airlines had some issues on December 8, 2005. N471WN skidded off a runway at Chicago Midway International Airport in a snow storm. Minor injuries were reported on board. However, a six year old child was killed in a car that was struck by the aircraft. That airplane was repaired and now is registered N296WN.

Boeing 737-700
Southwest Airlines was the first user of the -700 version of the Boeing 737, introduced into service in 1998. Southwest remains the primary user with some 478 in service as of 2016 and 18 more scheduled to join the fleet in 2017 and 2018.
The airliner is 110 feet or 34 metres long with a wingspan of 113 feet or 34 metres. At the tail, the plane stands 41 feet or 13 metres high. The flight range for this aircraft is 5,570 kilometres.

Southwest Airlines
Founded in 1967 as Air Southwest, the name was changed to Southwest Airlines when the airline commenced commercial operations in June, 1971. The airline is headquartered on the grounds of Dallas Love Field (DAL) in Dallas, Texas.
The world's largest low cost carrier, Southwest has a fleet of 707 as of 2016 and flies to 101 destinations. Chicago Midway is the airline's most used airport.
All 707 airplanes in the fleet are some version of a Boeing 737. Of the 707, 478 are Boeing 737-700. With the acquisition of AirTran, Southwest inherited several Boeing 717-200. However, the airline chose to lease those airplanes out, rather than put them in service.

Resources
Ft. Lauderdale – Hollywood International Airport
More Like This: