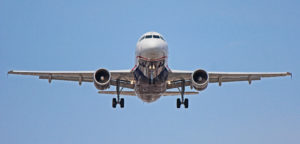 Although still painted up as a member of U.S. Airways, this Airbus A319 (N769US) belongs to American Airlines. The two airlines became one in 2015 but there has been a lag in getting all the U.S. Airways jets repainted.
The images below were taken April 18, 2016. The Airbus A319-112 is landing at Toronto Pearson International Airport (YYZ) in Mississauga, Ontario. Click on any of the images in the gallery below to get the full size version. See below the gallery for more information on airplane and airline.
N769US American Airlines Airbus A319 Images
N769US
This Airbus A319-112 belonged to U.S. Airways until the merger in 2015. N769US was originally delivered to U.S. Airways in December, 2000. She is based at Philadelphia International Airport (PHL).
The airliner has the typical Airbus A319 seating configuration. There are 12 first class seats in the front of the airplane. Toward the back, there are 112 economy class seats for a potential total of 124 passengers. This is 42 below the maximum seating configuration on an A319.
Airbus A319
A member of the A320 family, the Airbus A319 is shorter and narrower than the A320's. Also, an A319 has a single aisle compared to the A320's two aisle setup. The first Airbus A319 entered service in 1996 with Swissair.
The jetliner is 34 metres or 111 feet long with a wingspan of 36 metres or 118 feet. At the tail, she stands 12 metres or 39 feet in height. Cruise range for the A319 is 6,950 kilometres with sharklets installed.
As mentioned, the maximum seating configuration is for 156 passengers. However, the typical setup is for 12 first class and 112 economy class seats for 124 passengers.
American Airlines
American Airlines commenced operations in 1936 and now boasts a fleet of 946 airplanes. AA travels to 350 destinations worldwide and is headquartered in Fort Worth, Texas, adjacent to the Dallas/Fort Worth International Airport. American Airlines merged with U.S. Airways in 2015.
AA is a member of the OneWorld Alliance. Founded in 1999, American was a founding member of the alliance, along with British Airways, Canadian Airlines, Cathay Pacific and Qantas. Of course, Canadian was acquired by Air Canada shortly after and AC was already a founding member of Star Alliance. In all, there are 14 members of the OneWorld Alliance.
More Like This: