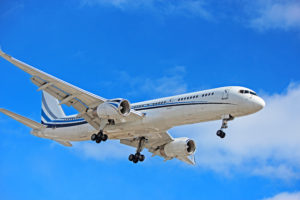 Some say Elan Express, some say MLW Aviation. For sure, this Boeing 757-200 originally entered service with Iberia Airlines and is the carrier of the NBA's Dallas Mavericks. N801DM was seen here on March 12, 2017 at Toronto Pearson International Airport (YYZ), just prior to the Mavericks playing the Toronto Raptors. If you look at the aircraft's recent flight history, it corresponds with the Mavericks 2016-17 NBA road schedule.
For full-size, high resolution versions of the images in the gallery, just click on any of the individual photos. See below for more information on this specific aircraft and the Boeing 757-200 in general.
N801DM Elan Express Boeing 757 Image Gallery
N801DM
N801DM made its first flight on June 18, 1993 and the Boeing 757 (officially a Boeing 757-256) was delivered to Iberia on August 12, 1993. The airplane was often leased to other airlines during its time with Iberia and has a bit of a confusing past. Iberia was founded in 1927 and is a member of the OneWorld Alliance. The airline has a fleet of 79 airplanes with 89 destinations. Iberia is now completely void of Boeing aircraft with a fleet consisting entirely of Airbus models. Their last Boeing 757 was retired in 2008.
The Boeing 757 took on the N801DM registration in 2000 when it joined the fleet of Pace Airlines. Pace was an airline based in Winston-Salem, North Carolina that was founded in 1996 and ceased operations in 2009. At that time, the airline had eight airplanes in its fleet.
At some sources, the airplane is listed as Elan Express, an airline of one aircraft. At others, it is under MLW Aviation LLC. MLW Air does claim to provide service to the Dallas Mavericks, along with numerous other sports teams. However, their official site seems to only include a luxury Boeing 767 and not a 757 model. If it is MLW Air, the aircraft is actually operated for them by Atlas Air, an airline better known for its cargo service.

Boeing 757-200
The first Boeing 757-200 entered service in 1983 with Eastern Air Lines and was last produced in 2004. The maximum seating configuration in this airplane is for 239 passengers. The flight range with winglets (that N801DM has) is 7,600 kilometres.
The Boeing 757 is 47 metres or 155 feet in length with a wingspan of 38 metres or 125 feet. At the tail, the aircraft stands 14 metres or 45 feet tall.

Resources
More Like This: