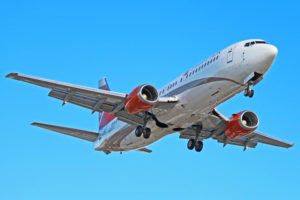 Because this website was just started a year ago and we only use our own photos, coupled with the fact that we're in Canada, photographing a Boeing 737 Classic model has been a tough job. Flair Air flies them into Hamilton, Ontario but that's a long haul for us to drive for the three or four airplanes you might see in a visit. Finally, we spotted N801TJ while plane spotting at Toronto Pearson International Airport (YYZ) on October 8, 2017.
The Swift Air Boeing 737-400 just happened to be carrying the NHL's Chicago Blackhawks on a charter to Toronto to play against the Maple Leafs the following night. For full-size, high resolution versions of any of the photos in the image gallery, simply click on the individual pictures. See below for more detailed information on N801TJ, the Boeing 737-400 model in general and the airline.
N801TJ Swift Air Boeing 737-400 Image Gallery
N801TJ
N801TJ took its first flight on October 22, 1990 and was delivered to US Air on November 6, 1990 as N448US (note – this history may be questionable – US Air had an airplane registered N488US but it was not a B734). US Air commenced operations in 1939 and was headquartered in Tempe, Arizona. The airline changed its name to US Airways in 1997 and ceased operations in October, 2015 when it was merged into American Airlines.
On May 9, 2006, The Boeing 737-4B7 was delivered to Pace Airlines. Pace was founded in 1996 and ceased operations in September, 2009. The airline was headquartered in Winston-Salem, North Carolina and was similar to Swift Air in that it flew charter flights for executives and sports teams.
The registration number was changed to N801TJ on October 13, 2006, while still in the Pace Airlines fleet. The airliner was delivered to Swift Air on September 1, 2009.
On January 8, 2017, N801TJ was flying the NHL's Dallas Stars from St. Louis, Missouri to Los Angeles, California. Climbing out of St. Louis, the crew stopped the initial climb at 5,000 feet after they detected smoke in the cockpit. No trace of fire was found after landing safely back in St. Louis just nine minutes after departing. A replacement aircraft was brought in to continue the flight.
Boeing 737-400
A member of the Boeing 737 Classic Family, the Boeing 737-400 performed its maiden flight on February 19, 1988 and was introduced into service with Piedmont Airlines on September 15, 1988. Between 1988 and 2000, 486 of this variant were delivered. It was replaced by the Boeing 737-800.
The Boeing 737-400 is 36 metres or 120 feet in length with a wingspan of 29 metres or 95 feet. At the tail, the aircraft stands eleven metres or 37 feet in height. The maximum flight range is 3,820 kilometres.
Swift Air
Swift Air was founded in 1997 and is headquartered in Phoenix, Arizona. The airline's main hub is Phoenix Sky Harbor International Airport. Swift Air performs luxury private charter flights, primarily for professional sports teams in the NBA, NHL and MLB. They have a fleet of 13 aircraft including three Boeing 737-300 and ten Boeing 737-400 models.
Resources
More Like This: