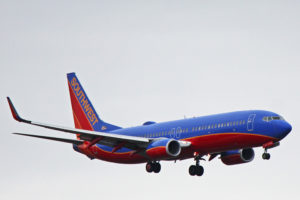 Not the most exciting road trip, but we got down to Buffalo, New York for some cloudy day plane spotting at Buffalo Niagara International Airport (BUF) on November 2, 2017. N8310C was one of several Southwest Boeing 737-800 aircraft we saw, all sporting the older Canyon Blue Livery. That paint job was stopped in 2014 in favour of the new style Heart Livery.
For full-size, high resolution versions of any of the photos in the image gallery, simply click on the individual pictures. See below for more detailed information on N8310C, the Boeing 737-800 model in general and the airline.
N8310C Southwest Airlines Boeing 737-800 Image Gallery
N8310C
N8310C took its first flight on May 23, 2012 and was delivered to Southwest Airlines on June 4, 2012. The Boeing 737-8H4 is configured for a maximum total of 175 passengers, all in economy class. This is one of 174 B738 airliners in the Southwest fleet with 28 more on order.
Boeing 737-800
The largest of the Next Generation family, the Boeing 737-800 is a stretched version of the 737-700 variant at 19 feet longer. The B738 is 40 metres or 130 feet in length with a wingspan of 36 metres or 118 feet. At the tail, the airliner stands 13 metres or 41 feet in height. The maximum flight range is 4,300 kilometres.
By far the most popular variant in the Boeing NG collection, their have been over 4,500 of this model delivered. The first entered service with Hapaq-Lloyd Flug (now TUIfly) in 1998. The airliner is in direct competition with the Airbus A320.
Southwest Airlines
Southwest Airlines was founded on March 15, 1967 and commenced operations on June 18, 1971. Headquartered in Dallas, Texas, Southwest has a fleet of nearly 700 aircraft, all variants of the Boeing 737. In fact, they are the largest operator of the 737 in the world. The airline flies to 99 destinations, mostly within the United States and was among the world's top ten safest airlines in 2012.
Resources
Buffalo Niagara International Airport
More Like This: