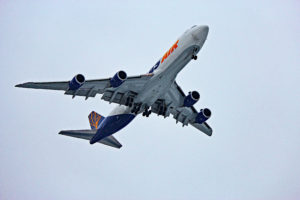 It was with pure luck that we caught up with this jumbo one cold February day. Waiting for a CanJet flight to arrive from Cuba, this Goliath appeared on the horizon. N854GT is a Boeing 747-87U(F) belonging to freight company Atlas Air. The 'F' is for freight. If it was a passenger plane, it would have an 'I' for intercontinental.
The images in the gallery below were taken on February 4, 2014 at Toronto Pearson International Airport (YYZ). For the full size version of any of the photos, just click on the image in the gallery. Below the gallery, there is more detailed information on this specific airplane, Boeing 747-8's in general and the airline.
N854GT Atlas Air Boeing 747-8 Image Gallery
N854GT
Currently, N854GT is one of ten Boeing 747-8 freighters belonging to Atlas Air. The airplane is quite young, taking its first flight in February, 2013. The third generation jumbo jet was delivered to Atlas in April, 2013. Based at New York City's John F. Kennedy International Airport (JFK), the airliner was barely a year old at the time the photos were taken.
Boeing 747-8
The 747-8 is the third generation of Boeing 747's. The first of this version made its maiden flight on February 8, 2010. It was first introduced in October, 2011 with Cargolux being the first airline to fly her.
The airplane is 76 metres or 250 feet in length. The wingspan is 69 metres or 225 feet. At the tail, the height of the airplane is 19 metres or 64 feet. Fully loaded, the Boeing 747-8F has a flight range of 8,130 kilometres.
Atlas Air
Atlas Air was founded in 1992 and is headquartered in Purchase, New York. The mostly cargo airline has a fleet of 81 airplanes, ten of which are Boeing 747-8's. These are very busy aircraft with 426 destinations worldwide.
Atlas Air falls under the Atlas Air Worldwide group which also includes Polar Air Cargo and Titan Aviation Holdings. This is also the largest provider of airlift services for the United States military.
The airline also has a small charter passenger service division. This features the Houston Express, two Boeing 747-400's configured for just 189 passengers in a three class system.
Resources
More Like This: