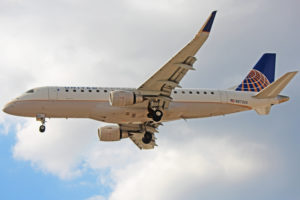 One of 54 Embraer 175 aircraft flown for United Express by Mesa Airlines, N87303 is an Embraer ERJ-175LR that can carry 76 passengers. We photographed this E175 while plane spotting at Toronto Pearson International Airport (YYZ) on September 14, 2017.
For full-size, high resolution versions of any of the photos in the image gallery, simply click on the individual pictures. See below for more detailed information on N87303, the ERJ-175LR model in general, along with both United Express and Mesa Airlines.
N87303 United Express / Mesa Airlines Embraer ERJ-175LR Image Gallery
N87303
N87303 took its first flight on April 16, 2014 and was delivered to Mesa Airlines on May 1, 2014. The Embraer ERJ-175LR has always operated flights for United and worn the United Express livery. The aircraft is configured for a maximum total of 76 passengers with 12 seats in first class, 16 more in premium economy and 48 in economy class.
Embraer ERJ-175LR
The first Embraer ERJ-175 took its maiden flight in June, 2003 and entered service with Air Canada in July, 2005. This is a member of the Embraer E-Jet Family that includes the E170, E175, E190 and E195. Well over 1,000 of this family of aircraft has been produced.
The airliner is 32 metres or 104 feet in length with a wingspan of 29 metres or 94 feet. At the tail, the E175 stands ten metres or 32 feet in height. The maximum flight range for the LR version is 3,982 kilometres.
United Express
United Express was founded in 1985 as a regional brand under United Airlines. Headquartered in Chicago, Illinois, there are over 500 aircraft performing flights for United Express by nine different regional airlines.
All members of the Star Alliance through affiliation with the parent airline, the nine regional airlines include: Air Wisconsin, Cape Air, CommutAir, ExpressJet, GoJet Airlines, Mesa Airlines, Republic Airline, SkyWest Airlines and Trans States Airlines.
Mesa Airlines
Mesa Airlines was founded in 1980 and is headquartered in Phoenix, Arizona. The airline has a fleet of 139 aircraft and flies to 200 destinations. Mesa operates flights for American Airlines under the American Eagle brand and for United Airlines under the United Express name.
The airline has 64 Bombardier CRJ900 aircraft dedicated to American Eagle. Through affiliation with American Airlines, Mesa is a member of the Oneworld Alliance.
They have 74 aircraft flying for United Express with six more on order. There are 20 Bombardier CRJ200 models and 54 Embraer ERJ-175 airliners. Through United Airlines, Mesa is a member of the Star Alliance.
Resources
More Like This: