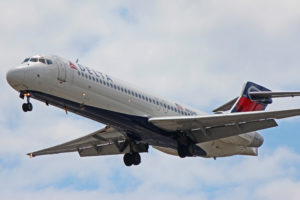 An airplane that started out with the now defunct Trans World Airlines, N926AT has been with Delta Air Lines since 2014. This after being leased from Southwest Airlines after that airline swallowed up AirTran. More on that chronology below. We photographed the Boeing 717-200 while plane spotting at Toronto Pearson International Airport on July 29, 2017.
For full-size, high resolution versions of any of the photos in the image gallery, simply click on the individual pictures. See below for more detailed information on N926AT, the Boeing 717-200 model in general and the airline.
N926AT Delta Air Lines Boeing 717-200 Image Gallery
N926AT
N926AT took its first flight on November 7, 2000 and was delivered to Trans World Airlines on November 29, 2000 as N412TW. TWA was founded in 1924 as Western Air Express and commenced operations as Trans World Airlines in 1926. The airline ceased ops on December 1, 2001 when it was acquired by American. At the time of it's demise, TWA had a fleet of 190 aircraft flying to 132 destinations. There were 20 Boeing 717-200 aircraft with TWA at that time and most are now with Delta, via AirTran.
The B712 stayed with American Airlines until it was delivered to AirTran on October 31, 2003. At that time, the registration number changed to N926AT. AirTran was founded in 1992 as ValuJet Airlines. It ceased operations on December 28, 2014 when it was integrated into Southwest Airlines. Since Southwest only flies Boeing 737 aircraft, all 88 Boeing 717's are now leased out to Delta.
N926AT arrived into the Delta Air Lines fleet on April 9, 2014. The aircraft is configured for a maximum total of 110 passengers with 12 seats in business class, 20 more in premium economy and 78 seats in economy class. This is one of 91 Boeing 717-200 airliners in the Delta fleet.
Boeing 717-200
The Boeing 717-200 was originally designed by McDonnell Douglas as the MD-95. McDonnell Douglas and Boeing merges in 1997 and the airplane took its first flight on September 2, 1998 as the Boeing 717-200. The first B712 entered service with AirTran Airways on October 12, 1999. 156 were built between 1998 and 2006 and the last one off the assembly line was also delivered to AirTran.
Today, there are 155 in service with 91 of those being flown by Delta Air Lines. Just four other airlines around the world have B712's in service: Hawaiian Airlines, QantasLink, Volotea and Turkmenistan Airlines.
The aircraft is 38 metres or 124 feet in length with a wingspan of 28 metres or 93 feet. At the tail, the airline stands nine metres or 30 feet in height. To date, there have been no hull-loss accidents and no fatalities.
Delta Air Lines
Delta Air Lines was founded in 1924 as Huff Daland Dusters and commenced operations as Delta in 1929. Headquartered in Atlanta, Georgia, the airline is a founding member of the SkyTeam Alliance, along with AeroMexico, Air France and Korean Air. SkyTeam now has 20 full members and is headquartered at Amsterdam Airport Schiphol.
The airline has around 850 aircraft in the main fleet, flying to 319 destinations. By the end of 2017, Delta will have phased out all Boeing 747-400 models, making the Airbus A350-900 their largest capacity airliner.
Resources
More Like This: