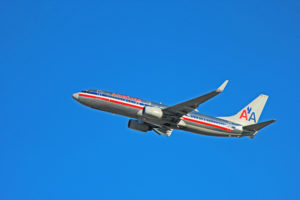 Not long after the images in the gallery were taken, N957AN took on the new look American Airlines livery. The photos were taken on May 22, 2015 at Toronto Pearson International Airport (YYZ) in Mississauga, Ontario. In November of that year, the Boeing 737-800 had a run-in with a large bird while taking off from Las Vegas, forcing the aircraft to turn around and land back in Vegas.
For full-size, high resolution versions of any of the photos in the gallery, simply click on the individual pictures. See below for more detailed information on this specific airplane, the Boeing 737-800 model in general and the airline.
N957AN American Airlines Boeing 737-800 Image Gallery
N957AN
N957AN made its first flight on February 26, 2001. The Boeing 737-823 was delivered to American Airlines on March 12, 2001. The airplane is configured with 16 first class seats, along with 48 main cabin extra seats and 90 more in economy class. Since, the airplane has been repainted with the new style American Airlines livery.
On June 26, 2012, N957AN was performing a flight fro Santa Ana, California to Dallas-Fort Worth, Texas. Somewhere around Amarillo, Texas, the crew reported an engine was out. The Boeing 737-800 diverted to Amarillo, reporting that there were engine stalls but the engine was acting normal. A replacement aircraft was brought in to take the passengers to Dallas.
While taking off from Las Vegas, Nevada on November 9, 2015, heading for Chicago O'Hare International Airport, N957AN experienced a hit from a large bird. Ten minutes after departure, the Boeing 737-800 landed safely back in Las Vegas. The flight was cancelled and the airplane remained on the ground in Vegas.

Boeing 737-800
19 feet longer than the Boeing 737-700, the first Boeing 737-800 entered service in 1998 with Hapaq-Lloyd Flug, some 30 years after the first ever Boeing 737 entered service with Lufthansa.
At the tail, this plane stands 13 metres or 41 feet tall. The aircraft is 40 metres or 130 feet long with a wingspan of 36 metres or 118 feet. Cruise range for a Boeing 737-800 with winglets installed (which N957AN does) is 5,765 kilometres.

American Airlines
American Airlines commenced operations in 1936 and now has a fleet of 939 aircraft, the largest in the fleet being a Boeing 777-300ER. AA flies to 350 destinations worldwide and is headquartered in Fort Worth, Texas.
A founding member of the OneWorld Alliance, along with British Airways, Canadian Airlines (defunct), Cathay Pacific and Qantas.

Resources
More Like This: