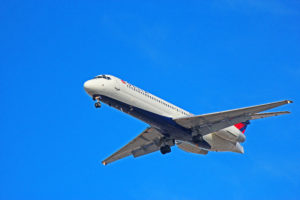 An actual rarity in the skies, there were just 156 Boeing 717's built and production ended in 2006. The first, last and most belonged to AirTran Airways, an airline swallowed up by Southwest Airlines in 2014. The plane pictured below belonged to AirTran for most of its life. It now belongs to Delta Airlines and remains registered as N967AT.
For the full sized, high resolution versions of the images in the gallery below, simply click on the individual photos. Each was taken at Toronto Pearson International Airport on November 5, 2016. See below the gallery for more information on this specific airplane, Boeing 717's in general and the airline.
N967AT Delta Airlines Boeing 717 Image Gallery
N967AT
N967AT is a Boeing 717-2BD that now belongs to Delta Airlines. It was originally delivered to AirTran Airways in October, 2001. AirTran merged with Southwest Airlines in 2014 and N967AT was leased from Southwest by Delta in October of that year.
The plane, based at Atlanta Hartsfield-Jackson International Airport (ATL), has a three class seating configuration. There are 12 first class seats, 15 more in premium economy and 83 in economy class.

Boeing 717-200
Originally marketed as the MD-95 by McDonnell Douglas, the airplane did not take its first flight until after Boeing acquired McDonnell Douglas in 1997. The Boeing 717 took its first flight on September 2, 1998 was introduced with AirTran on October 12, 1999. The last 717 was produced in 2006 and also was delivered to AirTran.
There were just 156 ever built. As of May, 2016, there have been no incidents involving a complete hull loss or a single fatality. Boeing stopped production in 2006 because of increased competition from Bombardier and Embraer in the small regional jet market.
The Boeing 717-200 is 124 feet or 38 metres in length with a wingspan of 93 feet or 28 metres. At the tail, the airplane is 29 feet or nine metres in height.

Delta Air Lines
Delta was founded in 1924 as Huff Daland Dusters and commenced operations in 1929. Delta Air Lines is the oldest airline still operating in the United States and one of the oldest and largest airlines in the world.
This is one of four founding members of the SkyTeam Alliance. The other three founders include AeroMexico, Air France, Korean Air. Delta's fleet consists of 809 airplanes and travels to 319 destinations worldwide. The airline is headquartered in Atlanta, Georgia.

AirTran Airways
N967AT originally was property of AirTran Airways. AirTran commenced operations as ValuJet Airlines in 1993. The name was changed to AirTran Airways in 1997. In 2014, the airline merged with Southwest Airlines. Previous to that, the airline had a fleet of 138 airplanes that traveled to 69 different destinations. Up until 2014, the company was headquartered in Dallas, Texas.

Resources
Atlanta Hartsfield-Jackson International Airport
More Like This: