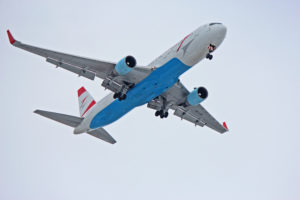 We updated this article on September 20, 2017 with newer, better images from July 29, 2017 – check out the new gallery below.
OE-LAW started life in the fleet of Lauda Air, an airline created by Formula One racer Niki Lauda. The Boeing 767-300ER is now in the fleet of Austrian Airlines after Lauda Air was acquired by Austrian and ceased operations in 2013. Austrian ultimately is a wholly owned subsidiary of the Lufthansa Group.
The images in the gallery below of OE-LAW were taken on January 31, 2015 at Toronto Pearson International Airport (YYZ). Not long after, the airliner was involved in an incident resulting in a fire in the galley. See below for more details on that incident, this specific aircraft, the Boeing 767-300ER model in general and the airline.
For full-size, high resolution versions of any of the photos in the image gallery, simply click on the individual pictures.
OE-LAW Austrian Airlines Boeing 767-300ER Image Gallery
OE-LAW Updated Image Gallery (July 29, 2017)
OE-LAW
OE-LAW made its first flight on August 4, 1992 and was delivered to Lauda Air on August 21, 1992. The aircraft was transferred to the Austrian Airlines fleet on February 23, 2005 and took on the name 'China'.
The Boeing 767-3Z9ER is configured for 26 business class passengers with an additional 199 in economy class. This is one of six Boeing 767-300ER in the Austrian Airlines fleet.
With Lauda Air, the airliner had an incident on November 14, 1996 when flying from Sydney to Melbourne in Australia. Upon takeoff, sparks were seen in the area of the right main landing gear. The airplane continued on to Melbourne.
As OE-LAW slowed after landing in Melbourne, fire crew noted smoke coming from the right main landing gear. A small fire was extinguished and the aircraft was towed to the terminal. It was found that the inner bearing on the number 8 wheel and the number 4 wheel inner bearing had seized, damaging tire, wheel and bogie unit.
On April 18, 2015, just months after the images in the gallery were taken, OE-LAW was performing a flight from Vienna, Austria to Newark, New Jersey. Around Frankfurt, Germany, smoke began coming from the galley. The crew returned to Vienna and it was determined a coffee maker suffered a defect that resulting in the smoke and light smouldering fire.

Boeing 767-300ER
The -ER is for extended range. The first -300ER entered service with American Airlines in 1988 and there are now 583 in service. The first 767 of any kind was introduced in 1981 with United Airlines.
The Boeing 767-300ER is 55 metres or 180 feet in length with a wingspan of 48 metres or 156 feet. The height at the tail is 16 metres or 52 feet. The flight range is 10,549 kilometres.

Austrian Airlines
Founded in 1957, Austrian Airlines is now a wholly owned subsidiary of Lufthansa Group, purchased in 2009. Consequently, Austrian is a member of the Star Alliance with Lufthansa being a founding member.
The airline has a fleet of 80 aircraft with the largest being the Boeing 777-200ER. Austrian flies to 130 destinations worldwide and is headquartered at Vienna International Airport (VIE) in Schwechat, Austria.

Lauda Air
Lauda Air was founded in 1979 and commenced operations in 1985. For much of the airline's existence, it was owned by Formula One star Niki Lauda. In 2000, Lauda Air became a wholly owned subsidiary of Austrian Airlines.
From 2005 forward, Lauda Air served as a vacation bound charter airline for Austrian. Lauda was officially merged into Austrian in 2012 and the brand was retired in 2013. In the end, Lauda was flying to 59 destinations.
In May, 1991, a similar Boeing 767-300ER to OE-Law crashed on takeoff from Bangkok, Thailand. All 223 passengers and crew perished in the accident.

Resources
More Like This: