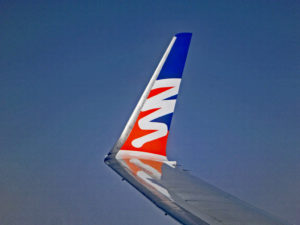 ** Updated January 5, 2018 **

We've added an additional gallery with photos taken January 1, 2018 of OK-TSO on final approach to Toronto Pearson International Airport. The B738 spent the summer back in Europe with SmartWings before being leased back to Air Transat on November 8, 2017.
A bit of a cross-dresser, OK-TSO on April 18, 2017 was a Boeing 737-800 half painted in the colours of Air Transat and half in those of SmartWings. The airplane is seasonally leased by Air Transat from SmartWings and their parent company Travel Service and should be going back to Europe shortly for the summer months of 2017.
The images in the gallery below were taken at the terminal of Abel Santamaria Airport (SNU) in Santa Clara, Cuba. The flight was taking passengers, including myself, back to Toronto International Airport (YYZ).
For full-size, high resolution versions of any of the images in the gallery, simply click on the individual pictures. See below for more detailed information on this specific aircraft, the Boeing 737-800 model in general and the airline. Also, below is a video taken from inside OK-TSO, while performing Air Transat flight TS2145, taking off from Santa Clara and landing in Toronto.
---
---
OK-TSO Air Transat Boeing 737-800 Image Gallery
Gallery Updated (January 1, 2018)
OK-TSO
OK-TSO made its first flight on October 25, 2007. On November 28, 2007, the Boeing 737-800 was delivered to Okay Airways, registered as B-5366. Okay Airways is an airline headquartered in Beijing, China that was founded in 2004. Their fleet consists of 22 aircraft, all consisting of differing variations of the Boeing 737. Okay flies to 50 destinations.
On May 20, 2010, B-5366 was transferred to Malaysia Airlines, changing registration to 9M-MLD. It stayed with Malaysia until going into storage in August, 2015. On May 6, 2016, the Boeing 737-800 was delivered to SmartWings and became OK-TSO. Air Transat leased the aircraft on December 12, 2016. The airplane is configured for 189 passengers in a single class system.

Boeing 737-800
The Boeing 737-800 is 40 metres or 130 feet in length with a wingspan of 36 metres or 118 feet. At the tail, the airplane stands 13 metres or 41 feet in height. This is a stretched version of the Boeing 737-700, being 19 feet longer. Cruise range with the winglets installed is 5,765 kilometres.
The first Boeing 737 entered service in 1968 with Lufthansa. The first Boeing 737-800 entered service in 1998 with Hapaq-Lloyd Flug (now TUIfly).

Air Transat
Air Transat commenced operations in 1987 and has a fleet that fluctuates above and below 30 aircraft, depending on the season. The airline, headquartered in Montreal, flies to some 60 destinations in thirty countries.
The airline is based at Toronto Pearson International Airport (YYZ) and Montreal Pierre Elliott Trudeau International Airport (YUL). Air Transat flies Airbus A310-300, Airbus A330-200, Airbus A330-300, Boeing 737-700 and Boeing 737-800.

SmartWings
SmartWings is the low cost brand of parent company Travel Service. The Czech airline was founded in 2004 and is headquartered in Prague, Czech Republic. SmartWings has a fleet of 15 aircraft, two Boeing 737-700 and 13 Boeing 737-800. However, three of the -800 are leased to Air Transat and five are leased to Sunwing.
The airline flies to 27 destinations. Mostly, SmartWings flies in Europe but also travels to nearby countries in Africa and Asia, including Tunisia, Israel, Turkey and the United Arab Emirates.

Resources
Air Transat Flight TS2145 Video
The video below was taken on April 18, 2017 from the fifth row of OK-TSO. The video includes footage of the takeoff and landing, as well as clips of downtown Toronto near the end of the flight.
More Like This: