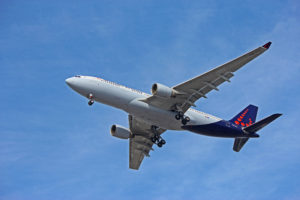 Nearly 17 years old, this Airbus A330-200 that now belongs to Brussels Airlines has bounced around quite a bit over its lifetime. OO-SFU has belonged to the fleet of five other airlines since 2000. Brussels Airlines is the national carrier of Belgium and has been since 2006 as a result of a merger between two other airlines.
The images in the gallery below were taken November 5, 2016 at Toronto Pearson International Airport (YYZ). Click on any of the photos below for the full sized high resolution version. More information on this specific airplane, Airbus A330's in general and the airline can be found below the gallery.
OO-SFU Brussels Airlines Airbus A330 Image Gallery
OO-SFU
This Airbus A330-223, registered OO-SFU, took its first flight in January, 2000. The airliner was delivered to Sabena in May of that same year. Sabena was formerly the national carrier of Belgium before bankruptcy forced changes. Sabena is a predecessor of the current Brussels Airlines.
Along the way, it has belonged to Lufthansa (D-AIME), Swiss International Airlines (HB-IQR), Strategic Airlines (VH-SSA) and Air Australia (VH-SSA). Air Australia ceased operations in February, 2012 and the plane was in storage for over a year before being delivered to Brussels Airlines in June, 2013.
While belonging to Strategic Airlines in Australia, the airliner (registered VH-SSA) was traveling from Brisbane to Phuket in Thailand on June 16, 2011. The plane was diverted to Kuala Lumpur in Malaysia due to a generator failure. The plane landed safely but did not carry on to Phuket for nearly five days.
On November 7, 2014, the Airbus A330-200 was enroute from Brussels to Bujumbura, Burundi. The airliner experienced a hydraulic failure and returned to Brussels. Before landing, OO-SFU had to fly around for four hours to burn off fuel before arriving safely.

Airbus A330-223
The Airbus A330-200 is a shorter, longer range version of the original A330. The first -200 entered service in 1998. The airplane is 189 feet or 59 metres long with a tail height of 57 feet or 17 metres. The maximum flight range is a lofty 9,600 kilometres.
The first A330 entered service in 1992. Since, nearly 1,300 of differing variations have been built.

Brussels Airlines
Brussels Airlines was founded in 2006 and commenced operations in March, 2007. The formation of the airline resulted from the merger between SN Brussels (formerly Sabena) and Virgin Express. Brussels Airlines is 45% owned by Lufthansa and is a member of the Star Alliance.
Headquartered at Diegem, Machelen, Belgium, the airline currently has a fleet of 49 airliners and boasts 90 destinations worldwide.

Previous Ownership
As mentioned, OO-SFU was originally delivered to Sabena, the former national carrier of Belgium. It has also belonged to Swiss International Air Lines, Lufthansa, Strategic Airlines Australia and Air Australia.
Swiss International Air Lines was founded in 2002 when Swissair ceased operations. The airline is a subsidiary of Lufthansa Group and has a fleet of 68 airplanes. Currently Swiss International travels to 106 destinations in 48 countries.
Strategic Airlines Australia and Air Australia are one in the same. Strategic was founded in 2008 and changed to Air Australia in November, 2011. Air Australia ceased operations in February, 2012. The airline was headquartered in Brisbane, Australia and had a fleet of three Airbus A320-200's and two Airbus A330-200's.

Resources
More Like This: