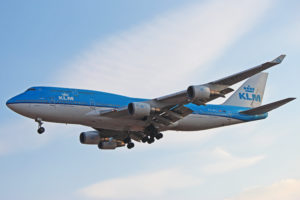 History in the skies. PH-BFC is the first Boeing 747-400M Combi to enter service and is still flying strong. The KLM Boeing 747 also has a spot in history for almost crashing in its first few months of service due to complete engine failure, attributing to flying through an Icelandic volcanic dust cloud. More on that, and a few other incidents, below.
We photographed PH-BFC on December 3, 2017 while plane spotting at Toronto Pearson International Airport (YYZ). For full-size, high resolution versions of any of the photos in the image gallery, simply click on the individual pictures. See below for more detailed information on this specific aircraft, the Boeing 747-400M Combi model in general and the airline.
PH-BFC KLM Royal Dutch Airlines Boeing 747-400M Combi Image Gallery
PH-BFC
PH-BFC took its first flight on June 30, 1989, the first Boeing 747-400M Combi variant to take to the skies. The aircraft was delivered to KLM Royal Dutch Airlines on September 1, 1989. The airplane is named Calgary and is one of eleven left in the KLM fleet, all to be retired by 2020. There are also four regular Boeing 747-400 airliners still flying for the airline out of the Netherlands. This airplane is configured for a maximum total of 268 passengers with 35 seats in business class, 36 more in premium economy and 197 in economy class.
Back on December 15, 1989, not long after entering service for KLM, PH-BFC was performing KLM Flight 867 from Amsterdam, Netherlands to Toyko, Japan with a stop at Anchorage, Alaska. While descending into Anchorage, all four engines failed. After several attempts to restart, and descending more than 14,000 feet, the engines finally all came back to life and the aircraft was able to land safely.
The incident is attributed to flying through a volcanic ash cloud created by Mount Redoubt in Iceland. The result was $80 million in damages with all four engines needing to be replaced.
Much later in life, PH-BFC was to fly from Amsterdam to Hong Kong, China on July 22, 2015. However, the Boeing 747-400M had to reject the takeoff at high speed after experiencing multiple bird strikes. A replacement 747-400 was brought in to take the passengers to Hong Kong.
Earlier this year, on August 10, 2017, the jumbo jet was involved in an incident but it wasn't this aircraft that was in danger. Instead, an Air France Boeing 777-200ER went through a severe patch of turbulence thought to have been caused by the wake of PH-BFC. The incident occurred southwest of Halifax, Nova Scotia and the Air France aircraft was able to carry on with its flight from Boston, Massachusetts to Paris, France.
Boeing 747-400M Combi
The first Boeing 747-400M Combi variant took its maiden flight on June 30, 1989 and was delivered to KLM Royal Dutch Airlines on September 12, 1989. The Combi version of the iconic jumbo jet has a large cargo door at the rear of the fuselage that allows loading and unloading of freight to the main deck cargo hold.
In all, 63 were delivered between 1989 and 2002. The aircraft is 71 metres or 232 feet in length with a wingspan of 64 metres or 211 feet. At the tail, the Boeing 747 stands 19 metres or 64 feet in height. All exterior dimensions match the base Boeing 747-400. The flight range is 13,490 kilometres.
KLM Royal Dutch Airlines
KLM Royal Dutch Airlines, aka Koninklijke Luchtvaart Maatschappij, was founded on October 7, 1919 and is the oldest airline in the world operating under its original name. Headquartered in Amstelveen, Netherlands, KLM merged with Air France in 2004 with both major airlines continuing as standalone companies.
The airline joined the SkyTeam Alliance in 2004. SkyTeam was founded in 2000 and now has 20 member airlines worldwide. KLM has a fleet of 120 aircraft flying to 145 destinations. The airline is the last to operate the McDonnell Douglas MD-11 for passenger service, retiring their final MD-11 in 2014.
Resources
More Like This: