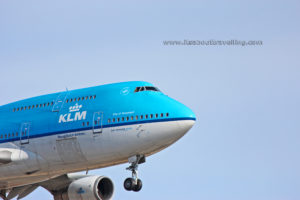 A look back at an iconic Boeing 747-406 belonging to KLM Royal Dutch Airlines. The airplane, registered PH-BFG, was first delivered to the airline in 1990 and is still going strong in 2016. Click the images below for the full version of each photo. For more detailed information on the airplane and airline, see below.
The images were taken on March 13, 2012 at Toronto Pearson International Airport (YYZ) in Mississauga, Ontario.
Images of PH-BFG KLM Boeing 747-400
PH-BFG
As mentioned above, PH-BFG was delivered to KLM Royal Dutch Airlines in 1990. The jumbo jet is based as Amsterdam's Schiphol Airport and is nicknamed Guayaquil. The Boeing 747-400 is configured with 12 seats in first class, 42 in world business class, 36 in economy comfort and 337 in economy class.
The airplane has been involved in a few minor incidents in recent years. On June 9, 2015, the crew of PH-BFG rejected a takeoff from Sint Maarten, destined for Curacao after receiving an unsafe gear indication. The plane departed 3.5 hours later without further incident.
On July 20, 2015, while landing in Curacao on a flight from Amsterdam, one of the engines was involved in a bird strike. The Boeing 747 landing safely but was grounded for 30 hours for repairs.
Boeing 747-400
694 of this Boeing 747 were built with the first flight taken in 1988 and first introduction in 1989. This was 20 years after the first ever model of Boeing 747 was introduced (in 1969).
KLM is in the process, like most airlines, of phasing out their 747-400's as they are aged and not very fuel efficient compared to newer aircraft. By 2018, the KLM fleet of Boeing 747's will be cut in half.
KLM Royal Dutch Airlines
KLM was founded in 1919. The airline boasts a fleet of 119 airplanes and flies to 138 destinations worldwide. KLM Royal Dutch Airlines merged with Air France in 2004 and is headquartered in Amstelveen, Netherlands.
The Dutch airline is a member of the SkyTeam alliance. SkyTeam was founded in 2000 and encompasses 20 airlines. KLM joined in 2004. Amsterdam Schiphol Airport is home to the headquarters of the alliance.
More Like This: