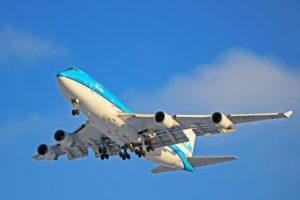 PH-BFL is one of four Boeing 747-400 aircraft still in the KLM Royal Dutch Airlines fleet (with an additional ten Boeing 747-400M Combi variants). The jumbo jet had a rough go in January, 2017 with bird strikes, loose parts and smoke in the airplane. More on that below.
We photographed PH-BFL while plane spotting at Toronto Pearson International Airport (YYZ) on January 1, 2018. For full-size, high resolution versions of any of the photos in the image gallery, simply click on the individual pictures. See below for more detailed information on PH-BFL, the Boeing 747-400 model in general and the airline.
PH-BFL KLM Boeing 747-400 Image Gallery
PH-BFL
PH-BFL took its first flight on November 12, 1991 and was delivered to KLM on December 5, 1991. The airline name the Boeing 747-406 the 'City of Lima'. This can be seen in the front end pictures in the gallery, painted below the side cockpit windows. The B744 is configured for a maximum total of 408 passengers with 35 seats in business class, 36 more in premium economy and 337 seats in economy class.
This is one of four Boeing 747-400 variants still flying for KLM. There are an additional ten Boeing 747-400M Combi models in the fleet. The Combi aircraft are to be phased out by 2020. Those airplanes have a rear cargo section on the main deck, behind the passenger seating area.
On May 1, 2009, PH-BFL had what would not be the last bit of trouble flying from Curacao to Amsterdam. After leaving the southern Caribbean island, smoke was detected in the cabin. The B744 was diverted back to Curacao as a precaution.
Fast forward to January 20, 2017 and the Boeing 747-400 once again had issues trying to leave the Caribbean island on a flight back to the Netherlands. Climbing out of Curacao, a bird being ingested into one of the engines was enough for the aircraft to dump fuel and divert back to its point of departure about an hour later.
That was the last of a string of issues in January, 2017 for PH-BFL. On January 15, 2017, the jumbo jet was flying from Paramaribo, Suriname to Amsterdam. Descending toward Amsterdam, crew received a cargo hold smoke indication. After a safe landing at Amsterdam, passengers were disembarked from a remote stand at the airport and bussed to the terminal. No trace of fire, heat or smoke was found.
The following day, on January 16, 2017, the aircraft was flying from Amsterdam to Nairobi, Kenya. About 180 miles southwest of Cairo, Egypt, a loose part was observed on the wing. Crew made the decision to return to Amsterdam as the proper engineer to fix the problem would not be available in Nairobi.
January doesn't seem to be the lucky month for this aircraft. On January 7, 2016, PH-BFL dealt with another bird strike on a flight from Amsterdam to Toronto. The Boeing 747-400 experienced engine vibrations as a result and, after a fuel dump, returned to Amsterdam. Passengers boarded a replacement B744 (PH-BFB) and continued to Toronto with a delay of 3.5 hours.
Boeing 747-400
The first Boeing 747-400 variant made its maiden flight in 1988 and was introduced with Northwest Airlines in 1989. In all, 440 were produced with the last rolling off the line in 2005. The first Boeing 747 of any kind was introduced in 1969 with Pan American World Airways.
The B744 is 71 metres or 232 feet in length with a wingspan of 64 metres or 212 feet. The airliner is 19 metres or 64 feet in height. The flight range is 13,490 kilometres.
KLM Royal Dutch Airlines
Koninklijke Luchtvaart Maatschappij, also known as KLM Royal Dutch Airlines, was founded on October 7, 1919. This makes it the oldest airline in the world still operating under its original name. Headquartered in Amstelveen, Netherlands, the airline has a fleet of 120 aircraft flying to 145 destinations around the world.
The airline merged with Air France in 2004 and is a has been a member of the SkyTeam Alliance since that year. SkyTeam was founded in 2000 and now has 20 full member airlines worldwide.
Resources
More Like This: