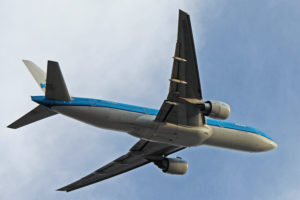 I don't normally take many photos of airplanes taking off. I enjoy the slow, leisurely passing of an aircraft on final approach. However, on October 8, 2017, we switched it up for a bit. PH-BQE is seen here taking off from Toronto Pearson International Airport. The KLM Royal Dutch Airlines Boeing 777-200ER was one of the few heavies we were able to capture that day.
For full-size, high resolution versions of any of the photos in the image gallery, simply click on the individual pictures. See below for more detailed information on PH-BQE, the Boeing 777-200ER model in general and the airline.
PH-BQE KLM Royal Dutch Airlines Boeing 777-200ER Image Gallery
PH-BQE
PH-BQE took its first flight on January 26, 2004 and was delivered to KLM on February 12, 2004. The airliner is named Epidaurus. PH-BQE is configured for a maximum total of 316 passengers with 34 seats in business class, 40 more in premium economy and 242 seats in economy class. This is one of 15 Boeing 777-200ER models in the KLM fleet.
With a clean safety record, PH-BQE has only one incident of note recorded. On June 3, 2009, the airplane was flying from Amsterdam to Johannesburg, South Africa. Five hours into the flight, the crew decided to return to Amsterdam. Landing safely, the only reason given was a problem with the fire detection system on one of the engines. It was determined that the issue would have been much better dealt with in the Netherlands, as opposed to Johannesburg.
Boeing 777-200ER
The ER stands for extended range. The first Boeing 777-200ER was introduced with British Airways in 1997. The aircraft is 64 metres or 209 feet in length with a wingspan of 61 metres or 200 feet. At the tail, the airliner stands 19 metres or 61 feet in height. The flight range is a lofty 13,080 kilometres.
KLM Royal Dutch Airlines
Koninklijke Luchtvaart Maatschappij, also known as KLM Royal Dutch Airlines, was founded on October 7, 1919. This makes KLM the oldest airline in the world that still retains its original name. Headquartered in Amstelveen, Netherlands, the airline uses Amsterdam Schiphol Airport as its main hub.
KLM, merged with Air France in 2004, has a fleet of 116 aircraft flying to 145 destinations around the world. This was the last airline to operate the McDonnell Douglas MD-11 for passenger service, retiring the last one in 2014. KLM has been a member of the SkyTeam Alliance since 2004. The alliance was founded in 2000 and now has 20 member airlines.
Resources
Toronto Pearson International Airport Video
More Like This: