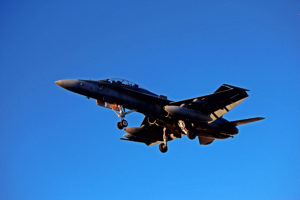 We had an unexpected but pleasant surprise plane spotting at Toronto Pearson International Airport (YYZ) when this beautiful CF-18 Hornet came buzzing by. It was New Year's Day, 2017, and there was an assumption that nothing good was coming in for a while. The jet belongs to the 433 Tactical Fighter Squadron of the Royal Canadian Air Force. If you click on the image in the top right of the gallery below for the full-size version, you can see that the co-pilot is actually waving at us.
For full-sized, high definition versions of any of the images in the photo gallery below, just click on any of the individual pictures. See below the gallery for more information on the CF-188 and the 433 ETAC squadron of the RCAF.
RCAF CF-18 Hornet Image Gallery
CF-18
The CF-188, or the McDonell Douglas CF-18 Hornet, made its first flight in 1978 and was introduced in 1983. In all, 138 were built. The quarters are tight with either just one or two able to squeeze on board.
The jet fighter is 56 feet or 17 metres in length with a wingspan of 40 feet or 12 metres. At the tail, the height is 15 feet or five metres. This is no passenger airliner. Maximum speeds reach Mach 1.8 which is 1,184 kilometres per hour or 1,127 miles per hour.
The ceiling for these airplanes is 50,000 feet. It can reach this height in just 60 seconds. The jet is the base for the logo of the National Hockey League's Winnipeg Jets.

433 ETAC
This particular CF-18 was labeled for Captain Hilary Anderson. The tail is painted with a porcupine, the symbol of the 433 tactical fighter squadron. The 433 ETAC is known as the Ti-Pics (porcupines). On the top of the tail, it reads "Qui S'Y Frotte S'Y Pique". This translates to 'who opposes it gets hurt'.
The 433 squadron was originally established on September 25, 1943 and was first dissolved on October 25, 1945 after World War II came to an end. The squadron was reinstated between 1954 and 1961 then again between 1969 and 2005. The latest reincarnation occurred in 2015.
The RCAF have lost several CF-18's over the years due to crashes. The latest incident involved a pilot from the 433 ETAC on November 28, 2016. A crash in Saskatchewan killed Captain Thomas McQueen.

Resources
More Like This: