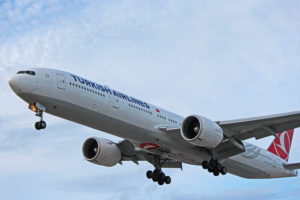 We photographed TC-LJH, a Turkish Airlines Boeing 777-300ER, while plane spotting at Toronto Pearson International Airport (YYZ) on October 22, 2017. This was less than a year and a half after the aircraft was delivered to Turkish Airlines and eight months after a bomb threat incident just before taking off from Istanbul, Turkey to Toronto, Ontario, Canada. More on that below.
For full-size, high resolution versions of any of the photos in the image gallery, simply click on the individual pictures. See below for more detailed information on TC-LJH, the Boeing 777-300ER model in general and the airline.
TC-LJH Turkish Airlines Boeing 777-300ER Image Gallery
TC-LJH
TC-LJH took its first flight on May 7, 2016 and was delivered to THY Turkish Airlines on May 31, 2016. The Boeing 777-3F2ER is configured for a maximum total of 349 passengers with 49 seats in business class and 300 seats in economy class. This is one of 33 Boeing 777-300ER models flying for Turkish Airlines and the largest airliner in the fleet.
On February 18, 2017, TC-LJH was to fly from Istanbul's Ataturk Airport to Toronto Pearson International Airport as Flight TK17. As the flight was being pushed back from the gate, flight staff found a note in one of the washrooms stating, "I am coming to you with Toronto bomb." Other sources say that "Bomb to Toronto" was written on the bathroom wall. Regardless, the aircraft returned to the terminal and all 292 passengers were evacuated and searched. The passengers then boarded an alternate plane and continued on to Toronto.
Boeing 777-300ER
The first Boeing 777-300ER was delivered to Air France in 2004, nearly a decade after the initial 777 variant entered service in 1995 with United Airlines. The aircraft is 74 metres or 242 feet in length with a wingspan of 65 metres or 213 feet. At the tail, the airliner stands 19 metres or 61 feet in height. The flight range is 13,650 kilometres.
Turkish Airlines
Turkish Airlines was founded on May 20, 1933. Officially called THY Turkish Airlines, the THY stands for Turk Hava Yollari. The airline is headquartered at Instanbul Ataturk Airport (IST) and has a fleet of 338 aircraft flying to 296 destinations in 119 countries. A member of the Star Alliance of airlines, Turkish Airlines joined on April 1, 2008. Their largest aircraft at this time is the Boeing 777-300ER, an aircraft they have 33 of.
Resources
More Like This: