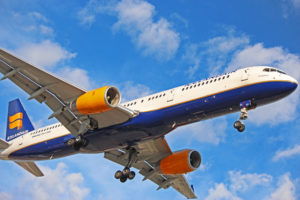 There are not many airlines that use primarily Boeing 757-200 aircraft. However, TF-ISY is one of 27 in the Icelandair fleet and this is an airline with a total of just 32 airliners in service at the moment. We photographed this particular airplane while plane spotting at Toronto Pearson International Airport (YYZ) on August 13, 2017.
For full-size, high resolution versions of any of the photos in the image gallery, simply click on the individual pictures. See below for more detailed information on TF-ISY, the Boeing 757-200 model in general and the airline.
TF-ISY Icelandair Boeing 757-200 Image Gallery
TF-ISY
TF-ISY took its first flight on December 18, 1990 and was originally delivered to American Airlines on January 18, 1991 as N636AM. In August, 2012, AA put the Boeing 757-223 into storage. Nearly three years later, on June 11, 2015, the aircraft was delivered to Icelandair with its new registration number.
One of 27 757-200 models in the Icelandair fleet, TF-ISY is configured for a maximum total of 183 passengers with 22 Saga seats (first class), 41 more in economy comfort and 120 in economy class. This airliner is named Torfajokull after a volcano in the south of Iceland that last erupted in 1477.
While still with American Airlines, the aircraft had an incident on June 23, 2008 while flying from San Francisco, California to Miami, Florida. An emergency was declared when smoke and the smell of fuel was detected in the cockpit. N636AM was diverted to Los Angeles, California, landing safely with no injuries.
Boeing 757-200
The initial variant of the 757, the Boeing 757-200 first entered service in 1983 with Eastern Air Lines. The last one was produced in 2004. The aircraft is 47 metres or 155 feet in length with a wingspan of 38 metres or 125 feet. At the tail, it stands 14 metres or 45 feet in height. The flight range is 7,250 kilometres.
Icelandair
Founded in 1937, Icelandair is headquartered at Reykjavik Airport (RKV) in Reykjavik, Iceland, the smaller of the two airports in town, and uses Keflavik International Airport (KEF) as a main hub. The airline has a fleet of 32 aircraft, all manufactured by Boeing. Their Boeing 767-300ER is currently the largest but the do have a Boeing 787-8 Dreamliner on order. The airline also has two aircraft dedicated to cargo. Icelandair flies to 43 destinations.
Resources
More Like This: