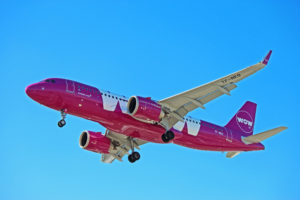 Not only a new arrival to the WOW air fleet, TF-NEO is the first Airbus A320Neo to join the Iceland based low cost carrier. The aircraft was just over a month old when we spotted it landing at Toronto Pearson International Airport (YYZ) on June 8, 2017.
For full-size, high resolution versions of any of the photos in the image gallery, simply click on the individual pictures. See below for more detailed information on TF-NEO, the Airbus A320Neo model in general and the airline.
TF-NEO WOW air Airbus A320Neo Image Gallery
TF-NEO
TF-NEO made its first flight on April 8, 2017 and was delivered to WOW air on April 21, 2017. This is the first Airbus A320Neo (officially an Airbus A320-251neo with winglets) in the WOW air fleet with no more currently on order. The aircraft is configured in a one class system with 180 seats, all in economy class.
Airbus a320Neo
The Airbus A320Neo shares the same dimensions as the traditional Airbus A320. The aircraft is 38 metres or 123 feet in length with a wingspan of 36 metres or 118 feet. At the tail, the airplane stands 12 metres or 39 feet in height.
The difference is fuel economy and cruise range. The A320neo can travel 6,500 kilometres, while the original version could go 6,100 KM. The Neo version has unique winglets to Airbus aircraft, looking more similar to a Boeing 737 or Boeing 767. The airline has dubbed the winglets 'sharklets'.
The first A320Neo flew on September 25, 2014. On January 25, 2016, the first was introduced to the market with Lufthansa.
WOW air
WOW air is a low cost carrier based in Iceland and offering flights to Europe, Canada and the United States. The airline was founded in November, 2011 and commenced operations on May 31, 2012. They are easy to spot in the skies with their fully wrapping purple livery.
Headquartered in Reykjavik, Iceland and based at the Keflavik International Airport (KEF), WOW air has a fleet of 17 aircraft flying to some 33 destinations. Both those numbers are growing. The fleet consists of Airbus A320-200, Airbus A320Neo, Airbus A321-200 and Airbus A330-300 aircraft. Some are operated for WOW by Avion Express. The airline has four Airbus A330-900Neo airplanes on order with deliveries starting in 2018.
WOW air flies to destinations in Europe, Canada and the United States. Flights to Toronto and Montreal in Canada began in May, 2016 and the two cities are currently the only Canadian stops for the airline. In the U.S., the number of destinations continues to grow.
Resources
Keflavik International Airport
More Like This: