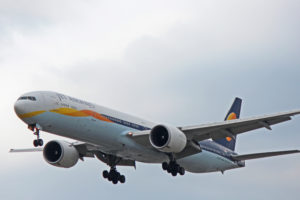 Never a direct flight from India to Canada, Jet Airways usually stops in Amsterdam along the journey. VT-JEH is a Boeing 777-300ER belonging to the Indian airline and is often seen at Toronto Pearson International Airport (YYZ) in Mississauga, Ontario.
For full-size, high resolution versions of any of the photos in the image gallery, simply click on the individual pictures. See below for more detailed information on VT-JEH, the Boeing 777-300ER model of aircraft in general and the airline.
If you're interested in a very affordable Jet Airways Boeing 777-300ER 16 cm diecast model, see below.
VT-JEH Jet Airways Boeing 777-300ER Image Gallery
VT-JEH
VT-JEH took its first flight on November 8, 2007 and was delivered to Jet Airways on November 29, 2007. Between April, 2009 and May, 2010, the Boeing 777 was leased out to Gulf Air. Gulf Air was founded in 1950 as Gulf Aviation, is headquartered in Muharraq, Bahrain and is owned by the Government of Bahrain. The airline currently has a fleet of 28 aircraft flying to 41 destinations.
The Jet Airways B773 is configured for a total maximum of 346 passengers with eight seats in first class, 30 more in premiere (premium economy) and 308 seats in economy class. This is one of ten Boeing 777-300ER models in the Jet Airways fleet.
Boeing 777-300ER
The first variant of the Boeing 777 was introduced in 1995 with United Airlines and the first Boeing 777-300ER was delivered to Air France in 2004. The aircraft is 74 metres or 242 feet in length with a wingspan of 65 metres or 213 feet. At the tail, the airliner stands 19 metres or 61 feet in height. The flight range is a lofty 13,650 kilometres.
Jet Airways
Founded on April 1, 1992, Jet Airways commenced operations on May 5, 1993. Headquartered in Mumbai, India, the airline is a member of the Etihad Partners Alliance. The alliance consists of eight airlines (Etihad Airways, Eithad Regional, Alitalia, AirBerlin
, Jet Airways, Air Seychelles, Air Serbia and NIKI), all of which Etihad has a minority shareholding in.
The airline has a fleet of 112 and flies to 65 destinations. The B773 is the largest aircraft in the fleet while the largest quantity is their 64 Boeing 737-800 models. Currently, they have 79 Boeing Max 8 on order for deliveries starting in mid 2018 and ten Boeing 787-9 Dreamliners on order with deliveries starting near the end of 2017.
Resources
More Like This: