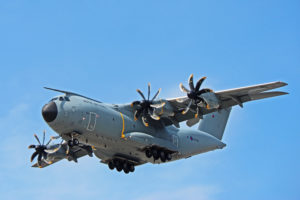 You know you're a big deal when a photographer shows up in the lot behind the Wendy's on Airport Road just to take some pictures of you, then leave. The location is a popular plane spotting haunt adjacent to Toronto Pearson International Airport. The star aircraft is ZM400, an Airbus A400m carrier belonging to the Royal Air Force. The date was July 20, 2017. And yes, at least one person came for this airplane and this airplane only.
For full-size, high resolution versions of any of the photos in the image gallery, simply click on the individual pictures. See below for more detailed information on ZM400, the Airbus A400 model in general and the RAF.
ZM400 RAF Airbus A400 Image Gallery
ZM400
ZM400 took its first flight on August 30, 2014 and was delivered to the Royal Air Force on November 17, 2014. The aircraft is named 'City of Bristol'. The aircraft almost never was with lengthy initial delays in production of this model of aircraft that almost resulted in shelving the project.
This Airbus A400m Atlas can take troops to war or bring the casualties back. The aircraft can carry 116 fully equipped troops or 66 stretchers, accompanied by 25 medical personnel. Of course, the airplane can also be used to carry cargo.
Airbus A400
The Airbus A400M, also known as the Atlas C1, is designed and manufactured by Airbus Defense and Space in Seville, Spain. The transport aircraft took its first flight on December 11, 2009 and was introduced with the France Air Force in August, 2013. As of June 30, 2017, 46 Airbus A400M have been delivered to several countries around the world with 174 more still on order.
The A400M Atlas is 45 metres or 148 feet in length, nothing spectacular as its roughly the same length as an Airbus A321 commercial airliner. The wingspan is 42 metres or 139 feet and the height at the tail is 15 metres or 48 feet. The flight range with maximum payload is 3,300 kilometres.

Royal Air Force
Founded on April 1, 1918, near the end of the First World War, the Royal Air Force of the United Kingdom is the oldest independent air force in the world. The staff offices for the RAF are located on Whitehall in London, England. The Airbus A400M Atlas aircraft replace the Lockheed Hercules C-130K carriers in the RAF's fleet.
Resources
More Like This: